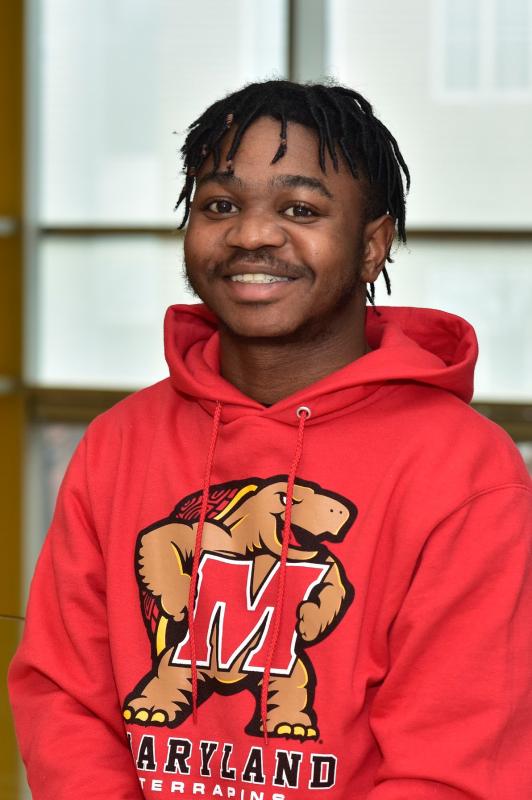 The best thing about being on campus is the people and the social events!
Hometown: Bowie, Maryland
Graduation date: May 2023

Can you share a bit about your background with us?

I was born in Maryland and have lived here my entire life. Quite interestingly, I have also lived in the same house since I was born. I am an only-child meaning there is no one around the house to get on my nerves. From as far back as I can remember, I have always thoroughly enjoyed math. That said, I came to be introduced to STEM around the end of elementary school, but I still had no idea what engineering was all about. It was in middle school when I joined a LEGO Robotics team that my passion for engineering blossomed. It was not until the end of my junior year in high school that I knew which type of engineering I wanted to pursue, and then I switched to Materials and Science Engineering.

Why did you choose to study at the University of Maryland (UMD)?
I chose to study at UMD not only because of their superior background in STEM related fields, but also because of the atmosphere. The campus is welcoming to newcomers. At UMD, I feel at home. I had previously been on and around campus for events, work, and play, so I knew the campus very well. UMD was also one of the few colleges that offered my major specifically.

How did you hear about MSE and what prompted you to declare it as your major?
I heard about MSE through online research in the fall of 2018. I had previously wanted to pursue chemical engineering, but that quickly changed as I kept reading about all that MSE had to offer. It seemed almost too perfect for me. Still along the lines of being a chemical engineer, but more focused towards materials and their properties; it all seemed too good to be true. Such versatility and flexibility piqued my interest. Further research also confirmed that UMD offered this major, so I was ecstatic!

Have you conducted any research, either on or off campus?
Yes, I started conducting research as a rising freshman attending Eleanor Roosevelt High School in 2015. I was blessed with the opportunity to work in Dr. Stephanie Lansing's Waste-to-Energy Lab as an unpaid intern working alongside postdocs and other college interns to produce renewable energy from waste through anaerobic digestion. I have completed a total of two experiments and have contributed to many more. The first experiment, conducted in 2017, was to observe the effects of a proprietary nano-iron product during anaerobic digestion, noting the changes in volume of biogas (methane, carbon dioxide, and other trace gases mixture) being produced. The second experiment, conducted in 2019 for my senior research project, was to asses the effects of Microbial Electrolysis Cell (MEC) on biogas production efficiency. Currently, I'm still working as a General Research Assistant interning in Dr. Lansing's laboratory.

What is the best thing about your experience on campus thus far? Any challenges you've had to overcome?
I have to say the best thing about being on campus are the people and the social events. The faculty, the staff, and the upperclassmen are all welcoming and friendly, willing to share their personal experiences, but also willing to listen to what you have to say. To simply put it, the UMD community is one big family, there to support you through your life journey.

The only challenge I have noted was becoming acclimated to the college setting. The transition from high school to college can be quite a rollercoaster for many individuals and for me it was no different. However, as long as you get on track and stay there, your college life experience should be smooth, educating, and fun.

When you're not in class, how do you spend your time?
I work as a General Research Assistant in Dr. Lansing's Waste-to-Energy Lab. The great part about UMD is that there is an event and/or club for everyone. I'm a member of the Terrapin Photography Club and have been a self-taught photographer for 2 years. I also am extremely active and love to play sports, basketball being my favorite.

Have you any post-commencement plans?
After completing my undergraduate MSE degree, I plan to pursue a master's degree in nanotechnology. My ultimate goal is to be trained broadly in the sciences so as to be able or so that I will be able to work across disciplines to address global issues in the health and the environment sectors.

So, we know engineering is a complex major – do you have any advice for incoming students as to how they can be successful?
My word for advice is simple: study. Study as much as you can, but also make sure to promote balance in your life. Too much of anything is never beneficial.
The Clark School at UMD is vast, filled with resources and interesting people; get to know your peers/colleagues, but also the professors – you will find connections lead to more opportunities. Don't be scared to stay after class and strike up a conversation with one of your professors. Most are willing to converse with their students.
My last word of advice is to find the field of engineering that fits you and your interests. If your interests change along the way, switching your major is very easy and, in most cases, the better option. The first sign for many students is lack of interest in what they are learning. If you find yourself feeling this way, asses your situation - if you think a switch is necessary, switch sooner rather than later. You will thank yourself later on!

Just for fun, what do you want to be when you grow up?
Growing up in the same community my whole life, I have come to share a connection to my hometown. In this aspect, I would love to give back. This could be through charity donations or simply through sharing and spreading my knowledge to the individuals that still live there. My ultimate goal is to give back to the place that I have called home for all of these years.
Top