Gary Rubloff to receive Senior Faculty Outstanding Research Award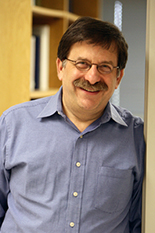 Professor
Gary Rubloff
(MSE/ISR) has been announced the recipient of the A. James Clark School of Engineering's
Senior Faculty Outstanding Research Award.
Rubloff is the Minta Martin Professor of Engineering and the founding director of the
Maryland NanoCenter.
He was also the third director of the Institute for Systems Research.
Rubloff will receive the award for his "extremely novel, important, and exciting research in the past five years, focused on nanoscience and technology." His recent work has emphasized the development of nanostructures for energy storage, nano-manufacturing, and biomaterials for micro-electro-mechanical devices, especially his invention of an "all-in-one nanopore battery array," which was published last year in Nature Nanotechnology and named the UMD Invention of the Year in the Physical Sciences. Read more about this battery.
Rubloff's prolific 40-year research career has spanned synchrotron light sources, surface science, semiconductor manufacturing, fabricating bio-MEMS chips and high-density energy storage devices.
The Senior Faculty Outstanding Research Award annually celebrates exceptionally strong and influential research by faculty members at the full professor rank.
Published November 4, 2015