Graduate Society Receives MRS Charter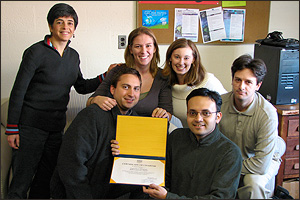 MSE Professor Lourdes Salamanca-Riba and graduate student Enrique Cobas accepted a Certificate of Charter on behalf of the Department's Materials Science Graduate Society (MSGS) at the 2007
Materials Research Society (MRS)
Fall Meeting. The charter officially recognizes MSGS, which is advised by Salamanca-Riba and MSE Assistant Professor John Cumings, as a university chapter of the society.
Membership in MRS, a national professional society, provides the group with a variety of benefits, including travel support for student members to attend society meetings, distinguished speaker support, special project grants, access to video archives, networking opportunities, and promotional materials for use at events.
"This charter is a great milestone for the MSG Society," said its president, MSE graduate student Erin Robertson. "We have been an active society for two years now. We've been involved with setting up seminar speakers, inviting prospective employers to speak, hosting prospective student open house events, bike trips to Harper's Ferry, and many others. Being an MRS chapter will open up new avenues for our members in terms of jobs, contacts, and access to research journals. We will be hosting a new membership drive in January. I am very excited to see where the future of the MSG Society will go."
MSE Professor and Chair Robert M. Briber credited Robertson and MSGS's vice president Susan Beatty Buckhout-White, who were involved in the founding and organization of MSGS, with laying much of the groundwork for the society's success.
Learn more:
Visit the Materials Research Society web site »
Visit the Materials Science Graduate Society web site »
Published December 6, 2007