Janiak Named 2007 Fischell Fellow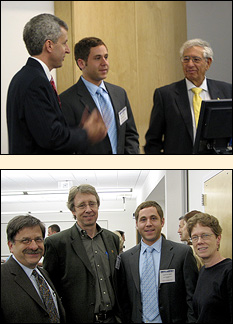 Materials Science and Engineering graduate student Daniel Janiak has been named the 2007 recipient of the Fischell Fellowship in Biomedical Engineering. The announcement was made at the May 3
Fischell Festival
by Fischell Department of Bioengineering Professor and Chair William Bentley, and department benefactor and medical device inventor Dr. Robert E. Fischell. The fellowship is a unique opportunity for talented and innovative graduate students interested in applied research and product design in the biomedical industry. It features a $35,000 12-month stipend, full tuition waiver, full health benefits, and is renewable for up to 5 years.
Janiak, who is advised by bioengineering Professor Peter Kofinas and works in the Functional Macromolecular Laboratory, was selected for his research in molecularly imprinted polymers (MIPs). "Although he is primarily a technologist deeply involved with his research," said Karen Thornton, Associate Director of Business Development for MTECH Ventures, a unit of the Maryland Technology Enterprise Institute, which administered the Fellowship's selection process this year, "he is an entrepreneurial thinker. The review committee felt that the combination of his research, technology, understanding of business concepts, awareness of a market need, and the strength of his business plan were a good fit for the Fischell Fellowship."
Earlier this year, Janiak was also one of only 20 students selected to participate in the Clark School's new Future Faculty Program, which was created to prepare students for academic careers in top-50 engineering schools.
Learn more about the Fellowship and current and past Fellows »
Learn more about the Future Faculty Program »
Published May 11, 2007