Maeling Tapp Wins Outstanding Research Award for Engineering Honors Program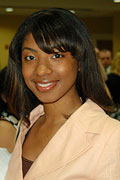 Maeling Tapp
, an undergraduate materials science engineering student advised by ECE Assistant Professor
Kristine Rosfjord
, was selected as the co-winner of the Most Outstanding Research Award for the
Engineering Honors Program
. The title of her research project was "Characterization of Magnetic Thin Films for the Measurement of Magnetic Phase Contrast." She shared the award with bioengineering student
James Abshire
.
Maeling began working with Prof. Rosfjord and her Nano Structures and Materials research group in March of 2007. In the 2007-2008 academic year, Maeling's research was supported by a Women in Engineering (WIE) Fellowship through the WIE office.
Maeling was a finalist for three other University Awards: the Byrd Citizenship Award, the Elkins Award and the Bethune Award. She was also inducted into the Maryland Medallion Society by President C.D. Mote at the University Awards Ceremony.
Maeling is a senior and will graduate next week. She will begin her Ph.D. work in the fall at Georgia Tech.
Published May 15, 2008