MSE Honors its Outstanding Undergraduate Students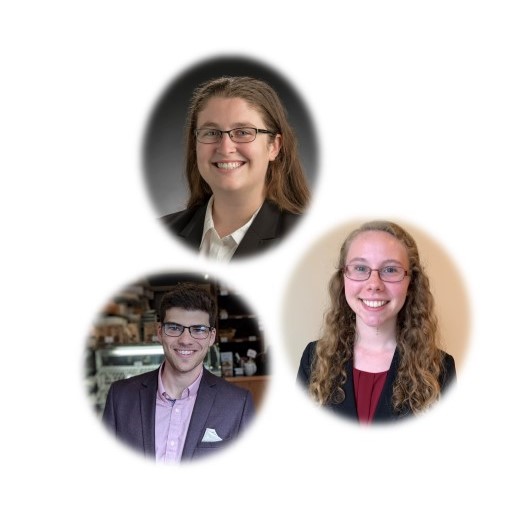 Usually, at the end of the spring semester, the A. James Clark School of Engineering holds its Annual Honors and Awards Ceremony to recognize undergraduate students for their excellence in academics, leadership and service. Alas, the ceremony was canceled this year due to the current health crisis, but that does not mean the efforts of our outstanding students have gone unnoticed. To that end, the UMD Department of Materials Science and Engineering (MSE) would like to recognize the following students:
Shannon Donaldson, recipient of the MSE Chair's Outstanding Senior Award, for her outstanding scholarship, leadership and service to the department.
Eli Fastow, recipient of the MSE Student Research Award, for demonstrating creativity and scholarship in research.
Shannon Flynn, recipient of the MSE Outstanding Materials Student Service Award, for outstanding service to the Department, to the student chapter of the Materials Engineering Society and exceptional advocacy for students in the department.

About our awardees:
Shannon Donaldson is a senior MSE student and a member of the QUEST Honors program & University Honors. She is a graduate of the Flexus Women in Engineering program where she was social chair and has participated in undergraduate research. As the president of the Materials Engineering Society, Shannon led her team to a first place victory in the Alumni Cup Rube Goldberg competition this year. She is also a top Clark School Ambassador. After graduation, Shannon will start full time at NAVAIR in southern Maryland conducting rewarding work in their polymers and composites branch.
Eli Fastow is a senior MSE student, with a minor in nanoscience and technology. As a member of the Gemstone honors program, Eli has conducted research into the development of novel materials to capture carbon dioxide and published this work in a peer-reviewed journal, Radiation Research. He has also conducted radiation and polymer science under Professor Al-Sheikhly since the June 2016. Eli also works as a senior lab manager at Terrapin Works and as a teaching fellow for ENMA301 and ENMA495. He has been accepted to the University of Pennsylvania to pursue a Ph.D. in the fall.
Shannon Flynn is a senior MSE student. She currently serves as the secretary of both Tau Beta Pi Beta chapter and the Materials Engineering Society, and is an active Clark School Ambassador. Shannon has previously served as the Community Service Chair of Tau Beta Pi and as the president of Engineering Playdate. She has participated in the Mighty Sound of Maryland and the Maryland Pep Band for four seasons. Shannon will be being working at the Johns Hopkins University Applied Physics Laboratory as a Materials and Planetary Protection Engineer after graduation.
Published May 12, 2020