MSE Junior Maeling Tapp Receives Williams Scholarship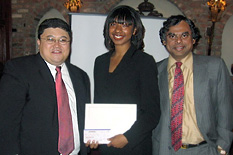 Maeling Tapp, a junior in Materials Science and Engineering, is the recipient of the 2005-2006 Morgan L. Williams Scholarship sponsored by the Washington, D.C. chapter of the American Society for Metal (ASM) International. In addition to her academic achievements, she is active in the Materials Advantage Student Chapter, having served as secretary for the 2005-2006 school year, and will be serving as president of the chapter for the 2006-2007 school year.
Dr. Morgan L. Williams, for whom the scholarship is named, contributed to the field of metallurgy for over four decades. He was particularly well known for his work in identifying the welding failures that caused the catastrophic ship fractures during and after World War II. Dr. Williams was an active member of the Washington chapter of ASM International for more than forty years, and served the organization in many capacities. Throughout his career he enjoyed working with and helping students.
The Morgan L. Williams Scholarship Fund was established in 1981, and consists of a certificate and a cash award of $2000.
Published May 31, 2006