MSE Professor Aristos Christou Elevated to IEEE 'Life Fellow'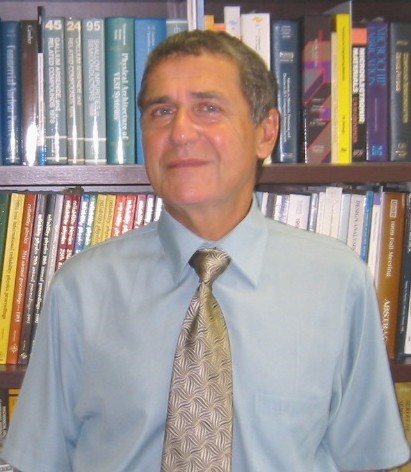 Aristos Christou, a Professor in the Department of Materials Science and Engineering has recently been honored with the rank of Life Fellow in the Institute of Electrical and Electronics Engineers (IEEE). Candidates for this fellowship offer "accomplishments that have contributed importantly to the advancement or application of engineering, science and technology, bringing the realization of significant value to society, spanning 10+ years of professional experience in their field" (IEEE website).
Christou, who received his Ph.D. in Materials Science from the University of Pennsylvania ('71), joined the University of Maryland in 2003. He currently holds a dual appointment of Professor in the Departments of Materials Science Engineering and Mechanical Engineering.
Prior to joining UMD, Dr. Christou was a Professor of Electronic Materials at Rutgers University, and Head of the Surface Physics Branch of the Naval Research Laboratory in Washington D.C. He was one of the founding PIs and a past Director of the NSF Center on Optoelectronic Components, Devices and Packaging.
Since 1971 he has carried out basic research in reliability techniques, reliability prediction methods, as well as qualification and prognostic reliability. His 'Physics of Failure' approach, which has been applied to microwave materials, semiconductor heterostructures, process science, and thin film metallizations, has been critical in achieving low-cost/high-yield commercial products.
At present, Dr. Christou conducts research in wide band gap compound semiconductor materials and process science; optoelectronic materials and devices; flexible displays and flexible electronics, as well as reliability engineering, and radiation effects in semiconductor devices. His research encompasses the mechanics and nano-mechanics of microelectronic packaging, in addition to degradation mechanisms of IC and OIC package configurations.
In addition to achieving Life Fellow of the IEEE, Dr. Christou is also a Fulbright Fellow, a recipient of four DoD-Berman Publication Awards, a recipient of the INEER Achievement Award (International Network for Engineering Education and Research) for achievements in international education and research in engineering, as well as the recipient of the ASM International Burgess Memorial Award. In 2013, he received the Nano-Micro Materials and Electronics Award for his contributions to the science of interface boundaries.
He has authored four books and has been the editor of three others. Dr. Christou has more than 200 publications, 12 patents, and has organized numerous international engineering conferences.
Published May 2, 2017