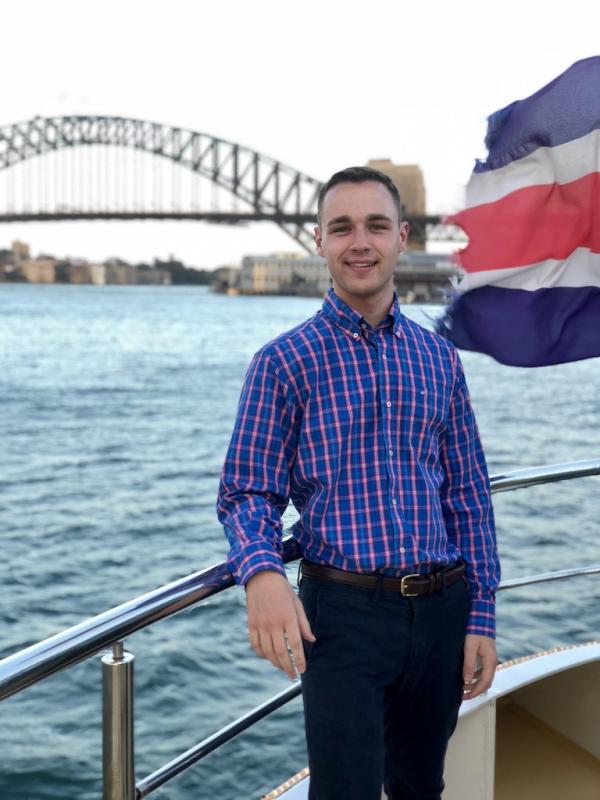 Don't be afraid to be spontaneous. While it's good to have plans for the future, it's impossible to be aware of every opportunity that you'll encounter - take a risk and follow your intuition.
We chatted with Adam to learn more about his experience in the MSE undergrad program, and to find out why he chose UMD for his studies.
Why did you choose to study at the University of Maryland?
The University of Maryland has an excellent reputation across many disciplines particularly in engineering. The proximity to DC also provides students with amazing internship opportunities. I also noticed the incredible amount of school spirit present at basketball and football games when visiting the university. All of this combined with the in-state tuition made it an obvious choice for me.
How did you learn about MSE, and why did you decide to major in it?
I came to college knowing I wanted to major in engineering but had no idea what specific discipline so I enrolled in ENES181, a 1-credit class for undecided freshmen engineers. During the class I particularly enjoyed the Materials Science and Engineering presentation because of the emphasis on science as well as engineering. I was especially interested in learning about emerging technologies in the energy industry. My initial thoughts proved about the major proved to be correct and I have enjoyed it ever since.
Have you conducted any on- or off-campus research?
I have had two internships so far since entering college. The first was with the Department of Energy's Office of Nuclear Energy in the spring of my sophomore year. During this experience, I learned about the structure of the federal government, the current challenges faced by the nuclear energy industry, and researched the implications of important policies. That summer, I interned for Deloitte Consulting in their federal practice where I was assigned to a project in the Transportation Security Administration. From this experience, I was able to see how the government approaches national security problems and use the skills I learned as an engineer to solve real world problems.
How has your research affected your undergraduate experience or plans for the future?
From these two experiences, I determined that I like solving problems for the federal government at the pace of the private sector. This makes federal consulting a natural fit for me and I have accepted an offer to return to Deloitte for this coming summer.
What has been your favorite class, and why?
My favorite class in the major has been ENMA301: Modern Materials Engineering, because it introduced me to many emerging technologies in a variety of fields that will become more and more relevant in the coming years.
What's the best piece of advice you would give to another student, especially one thinking of majoring in MSE?
Don't be afraid to be spontaneous. While it's good to have plans for the future, it's impossible to be aware of every opportunity that you'll encounter, especially in school, and sometimes it's necessary to take a risk and follow your intuition. For instance, early in my sophomore year I got an email about a short-term study abroad program in Germany and decided on a whim to apply. As a result, I was able to experience a totally different part of the world and had one of the best experiences of my life.
What do you do outside of class and the lab?
On campus, I am involved in the Student Government Association as the Director of Information Technology. I also am the chair of the Division of IT's Student Advisory Committee where I advocate on behalf of students for a variety of issues. In addition, I am an ambassador for the Honors College where I speak with prospective students to encourage them to attend the university.
What would you like to do after graduation?
After graduation, I plan to pursue a career at a large company either in consulting or in the energy industry. Eventually I hope to attend graduate school to get a Master in Business Administration.
Adam is set to graduate in May, 2019.
Top