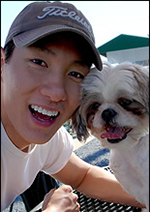 Getting through the rigorous studies of an undergraduate engineering degree prepared me for the real world.
Chen is a materials engineer at the Ford Motor Company, where he has designed structural components and performed failure analysis on prototype parts.
Class of: 2004 (B.S.)
We chatted with Chen to learn more about his experiences at the University of Maryland, and find out what he's doing today.
Why did you choose to study at the University of Maryland?
I chose Maryland primarily based on value. The quality of the education combined with my "in-state" tuition status made the school the most practical decision.
Why did you decide to major in Materials Science and Engineering?
My older brother gave me the idea of majoring in materials. He was an electrical engineering major at Maryland and introduced me to his friend, who was a materials [science and] engineering major. She described some of the great internships she'd landed, and given MSE majors are highly sought after by employers, I liked my odds in the job market. After all, I didn't want to graduate college without any job offers!
What was the best thing about majoring in MSE, or what was your favorite "MSE Experience?"
The student-to-teacher ratio. As I progressed through my undergraduate studies, I went from chemistry and physics courses with 150+ students per class, to MSE courses with less than a dozen kids per class. This made for a "cozy" learning environment. We were often tasked to work in teams to accomplish course assignments and presentations. Learning to work as part of a team is best learned through experience, and MSE courses do a fine job offering these opportunities.
What was your favorite class, and why?
Materials Characterization Lab with Professor [Luz] Martinez-Miranda. It offered valuable experience in writing lab reports and giving technical presentations.
Were you involved in research, internships, conferences, or other activities while a student?
I was a member of the Society of Plastics Engineers as well as our local MSE student body society. My participation in these societies included attending various seminars, conferences, and helping to plan events like Maryland Day.
What do you recommend students do or get involved in to have the best experience here?
Get involved in anything that piques your interest. It's a great way to be introduced to new people and new ideas. And if you're motivated by career advancement, there are engineering and business societies that offer great networking opportunities.
What have you been doing since you graduated?
Since graduation, I've primarily worked as a materials engineer for Ford Motor Company. From designing structural components out of magnesium alloys and performing failure analysis on prototype parts, to overseas assignments verifying materials sourced in low cost countries, I have discovered that materials engineers are viewed as being very versatile when it comes to applying their expertise to solve engineering problems.
How have your engineering skills helped in your job or in other activities that you have been involved with since leaving Maryland?
Simply getting through the rigorous studies of an undergraduate engineering degree prepared me for the real world in many ways. It helped me to learn how to manage my time and workload, work in teams to solve engineering problems, present technical ideas to a non-technical audience, and analyze complex ideas in order to improve them.
My friends and I would often stay up late at night studying for an exam, complaining, "When are we ever going to use this stuff?"—[but] the fact was that we were learning how to learn, if we could learn this "stuff" and pass the class, then we would be well-prepared to learn anything.
Top