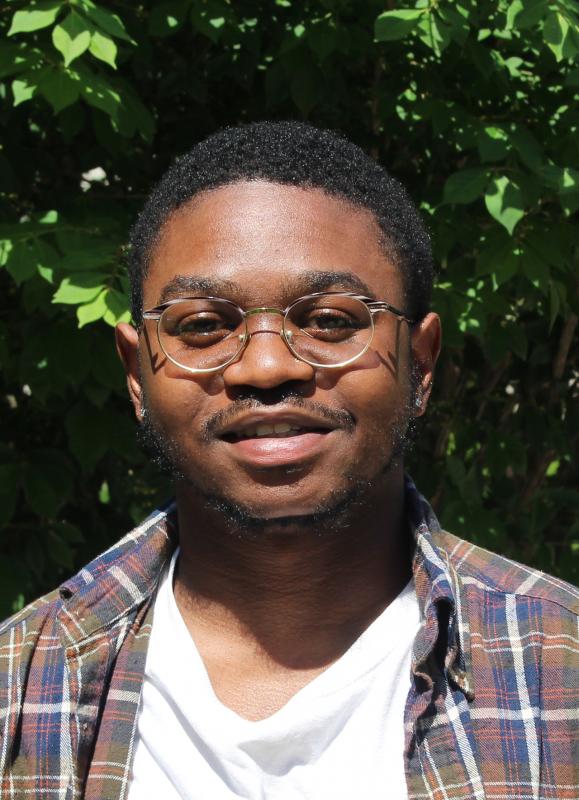 UMD feels like home to me - the versatility and flexibility of MSE peaked my interest.
Derrick Sanders
Hometown: Bowie, MD
Graduation date: Spring 2023 (B.S.)
1. Can you tell us a bit about your background?
I was born and raised in Maryland and have lived here my entire life. I'm an only-child, meaning there is no one around the house to get on my nerves. From as far back as I can remember, I have always thoroughly enjoyed math. That being said, I was introduced to STEM around the end of elementary school, but I had no idea what engineering was all about. It was in middle school when I joined a LEGO Robotics team that my interest for engineering blossomed. That interest turned into a passion when I attended Eleanor Roosevelt High School when I participated in the science and tech program. It was not until the end of my junior year in high school that I knew which type of engineering I wanted to pursue, however, now it is materials science and engineering.
2. Why did you choose to study at UMD?
Not only is the University of Maryland (UMD) a top ten research school nationwide, but I also had the privilege of UMD being my home-school. I also received a full Banneker Key Scholarship, which was an honor in of itself. I had previously been on and around campus for events, work and play in the past, so I knew the campus very well. UMD feels like home to me. The campus is welcoming to newcomers and is one of the few colleges that offered my major specifically.
3. That makes sense. So, how did you learn of materials science and engineering (MSE) and what prompted you to declare it as your major?
I heard about MSE through online research in the fall of 2018. I had previously wanted to pursue chemical engineering, but that quickly changed as I kept reading about all that MSE has to offer. It seemed almost too perfect for me. Still along the lines of being a chemical engineer, but more focused towards materials and their properties; MSE was almost too good to be true! The versatility and flexibility of the major peaked my interest. Further research also confirmed that UMD offered this major, so I was ecstatic. 
4. Have you conducted any research during your tenure, either on or off campus?
Yes, I started conducting research as rising freshman attending Eleanor Roosevelt High School in 2015. I was blessed with the opportunity to work in Dr. Stephanie Lansing's Waste-to-Energy Lab as an unpaid intern, working alongside postdocs and other college interns to produce renewable energy from waste through anaerobic digestion. Currently, I am still working as a General Research Assistant interning in Dr. Lansing's laboratory.
In the summer of 2021, I participated in a selective REU (Research Experiences for Undergraduates) program hosted at Iowa State University. The 10-week program is funded by the National Science Foundation (NSF). The BioMap Program consisted of 10 different projects, one participant per project, each consisting of unique research. My project dealt with the placement of DNA at the nano-scale. It was a thrilling and enriching experience!
5. That sounds really cool! Can you elaborate? What specifically was your role in the project, and with whom did you work? 
At Iowa State University (ISU), Prof. Andrew Hillier was my mentor. I worked alongside grad students to control the placement and patterning of DNA through a process called 'nanosphere lithography.' Being at the nanoscale level, imaging to obtain results was done using atomic force microscopy (AFM) and scanning electron microscopy (SEM) techniques.
One major takeaway that presented itself early on was being ambitious about everything you do. Before I decided to take this opportunity, I was hesitant. I wasn't sure this was what I wanted to do, but after experiencing and seeing the benefits that ISU brought to the table, I was fully convinced this opportunity was well worth it. 
6. What has been the best thing about your experience on campus thus far? Any challenges you've had to overcome?
The UMD campus atmosphere. Being back in person surrounded by likeminded students is a truly exciting feeling. I am excited for what the semester may bring. I have to say, COVID was a big challenge to maneuver through, not only me, but other students as well. We've moved through it, thankfully.
7. How did COVID effect your academic career? 
In terms of my academic career, it forced to me to adapt. I was always a hands-on learner, so the in-person aspect to classes played a key role in how I learned. Learning to adapt to the online environment proved challenging, but nonetheless one must overcome their challenges.

8. Absolutely. So, when you're not in class, or working as a GRA, how do you spend your time? 
I participate in Engineering Without Borders (EWB) and the Terrapin photography club. I'm also extremely active and love to play sports, basketball being my favorite!
9. You're very well-rounded, for sure. Do you have any post-commencement plans at this point?
I plan to apply for graduate school. The REU program I attended over the summer of 2021 provided its participants with valuable information necessary for applying, and also gave us a chance to converse with different faculty members and have a chance to understand their academic journey. After that, who knows?!
10. Engineering is a complex major – do you have any advice for incoming students as to how they can be successful?
The main piece of advice is to stay organized and learn to balance your life, which can be difficult at times. I find it important for me to know what I have to get done and make not only a mental note, but also a reminder in my phone. This way I feel at ease knowing I accomplished my goals for the day, or even the week.
11. Just for fun, what do you want to be when you grow up?
I want to use my materials degree and apply it to clothing in some way. Maybe this could turn into a business or maybe this could continue my research into graduate school. I'm open to either or all options!
Top