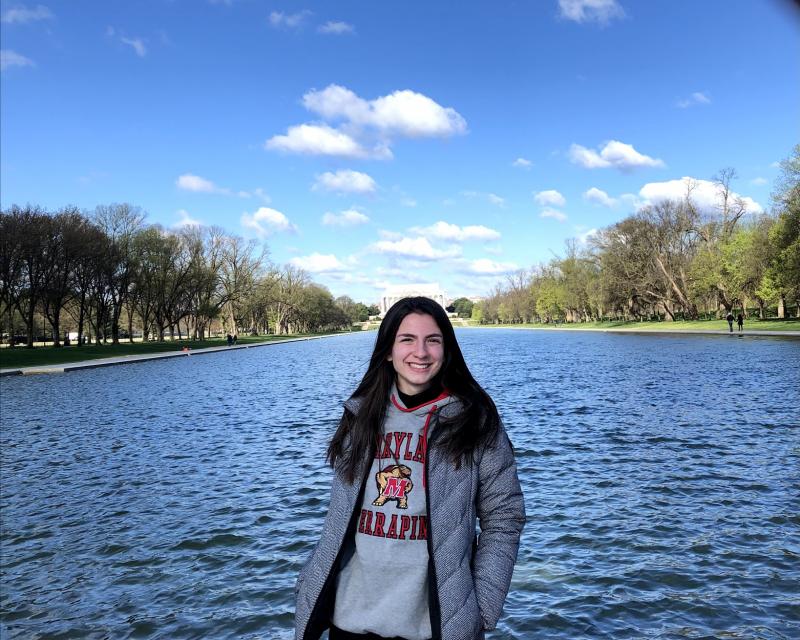 MSE stood out to me over all other engineering majors.
Simela Arnold 
Hometown: Annapolis, MD
Expected graduation date: Spring 2025 

Can you tell us a bit about your background? Why did you choose to study at the University of Maryland? 
I was born and raised in Annapolis, Maryland with my four other siblings. When I got to high school, I joined the STEM program where I chose to specifically learn about materials science. Since I lived close to the University of Maryland, I knew a lot about it and the strength of the Clark School of Engineering. Moreover, my brother is a UMD student who enjoys the university, so I knew I would also have someone there for me if I needed help with anything.
How did you learn about the Department of Materials Science and Engineering, and why did you choose this field as your major?
I was lucky enough to come visit the Department of Materials Science and Engineering during my sophomore year of high school as a field trip. The field trip was for STEM students who were on the materials science pathway. On our field trip, my class watched demonstrations, and toured the department and college. MSE stood out to me over all other engineering majors. I also like that materials science is multidisciplinary and includes physics and chemistry.
In which subjects did you excel in high school?  Any extra-curricular activities, or outside-of-school interests that you hope to continue on campus?
In high school, I excelled in biology and environmental science. I also did well in art classes. Out of all my extra-curriculars, my favorite would have to be National Arts Honor Society, which I was the vice president of my senior year. Another favorite was unified sports, which included bocce, bowling and tennis. Unified sports were sports played with students who are intellectually disabled. It was a great community that was never negative and I hope I am able to find that at the University of Maryland as well. I want to join clubs that are similar to those I was a part of in high school. I especially want to be on a bowling team again since I enjoyed that sport the most out of the three unified sports. I also want to join a noncompetitive running club - I used to run cross-country and track, so it would be nice to run with a group again, but not have to compete.
Any courses, in particular, you're looking forward to? Any research you're interested in conducting, or professors you'd like to work with?  
I'm looking forward to my materials science class this semester and my chemistry lab class. I remember doing my titration lab freshman year of high school and I hope that I am able to do it again this year. I want to be able to conduct research on alternative materials to current materials that are not as sustainable.
What's it like starting your first year of college during a pandemic? How are you feeling about it thus far?

All things considered, I'm feeling optimistic for this school year, despite the pandemic. With all incoming students having to be vaccinated before coming to campus, I hope that means there will be no outbreaks at school. I've been vaccinated for a couple months now, but I remain cautious and will be prudent on campus, too. The health of the students should be a priority and I can tell the university is working hard to keep everyone healthy.
Do you have any idea what you want to do post-commencement?  
After graduation, I want to travel across America and see all the amazing things that are out there. After traveling, I want to find a job in the materials science field, most likely doing research for a company, or school, on alternative materials.
Top