Alumnus' Self-Healing Catalyst Featured in Chemical & Engineering News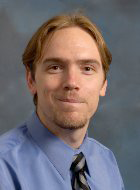 New research by Department of Materials Science and Engineering alumnus Jason Hattrick-Simpers (Ph.D '07) and his colleague, Jochen Lauter­bach, has been featured in Chemical & Engineering News (C&EN), the weekly magazine of the American Chemical Society (ACS).
The story, "Custom Catalyst Resists Oxidation," describes Hattrick-Simpers and Lauterbach's study in which they demonstrate how to prevent metallic catalysts that drive commercial chemical reactions from becoming inactive metal oxides. The discovery could help the commodity chemical industry reduce waste and increase product yields. Hattrick-Simpers and Lauterbach discovered that when the cobalt-based catalysts used in the production of synthetic fuels were prepared in the form of nanorods instead of nanoparticles, they resisted oxidation during the reaction process. The nanorod catalyst can be prompted to "heal" itself by controlling its crystallographic orientation at its reaction-facing surfaces.
Hattrick-Simpers is currently an assistant professor in the Department of Chemical Engineering at the University of South Carolina, Columbia. His research group specializes in the development of high-throughput techniques used to discover and optimize new materials with applications in energy-related products and processes. During his doctoral studies at the University of Maryland, he was advised by MSE professor Ichiro Takeuchi.
For More Information:
Read "Custom Catalyst Resists Oxidation" online at C&EN
See Cun Wen, Darrius Dunbar, Xin Zhang, Jochen Lauterbach and Jason Hattrick-Simpers. Self-healing catalysts: Co3O4 nanorods for Fischer–Tropsch synthesis. Chemical Communications, 2014,50, 4575-4578.
Published April 18, 2014