Ankem Named PROMISE Outstanding Faculty Mentor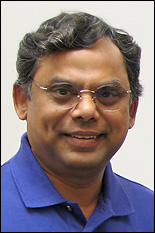 Department of Materials Science and Engineering professor Sreeramamurthy Ankem was named a 2015-2016 University System of Maryland (USM) PROMISE Alliance for Graduate Education and Professoriate (AGEP) Outstanding Faculty Mentor.
PROMISE Outstanding Faculty Mentors are nominated by underrepresented graduate students in science, technology, engineering, or mathematics (STEM) fields, as well as other leaders of STEM diversity programs in Maryland. They are selected for their efforts to increase inclusion, participation in graduate student development activities, and directing research programs that broaden the participation of underrepresented STEM scholars. In addition to his recognition, Ankem will be eligible to receive a $1000 travel he can use to support an underrepresented, U.S. citizen graduate student's participation in an international conference.
Ankem's research focuses on the physical, mechanical, deformation and damping behaviors of titanium alloys, stainless steels, and other structural materials in products ranging from airplanes to microporous bone implant joints to nuclear reactors. He is a Fellow of ASM International, the materials information society.
Funded by the NSF, AGEP aims to significantly "increase the number of domestic students obtaining graduate degrees in STEM fields, with special emphasis on those population groups underrepresented in these fields (i.e. African-Americans, Hispanics, American Indians, Alaska Natives, Native Hawaiians or other Pacific Islanders)." AGEP also wants to improve preparation of underrepresented minorities for faculty positions in academia.
Published September 17, 2015