Biofilm Made of Cellulose Nanofibers Offers Robust, Eco-friendly Materials for Emerging Applications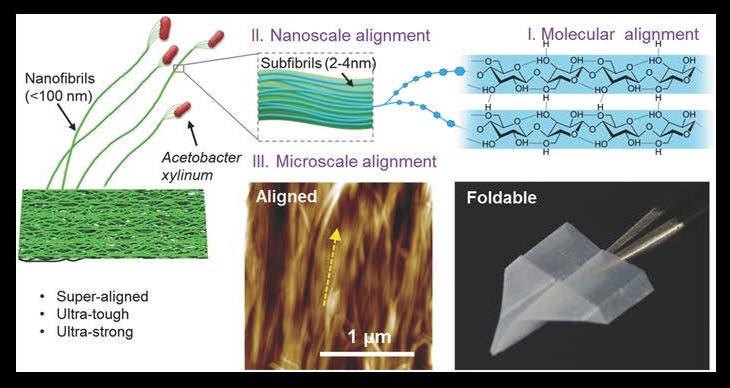 Cellulose – a component of the cell walls of plants – is one of the most abundant organic polymers on Earth. Wood, hemp and cotton all contain cellulose fibers. In fact, its mechanical properties are highly sought as an eco-friendly material for use in flexible electronics, photonics, microfluidics and bio-based devices. However, various obstacles – such as microscale alignment – remain.
Generally speaking, nanostructured materials must be perfectly aligned in order to achieve their full potential – similar to the way a bicycle chain must be 'kink-free' in order to achieve a smooth ride. Unfortunately, natural fiber alignment is lost during the processing of cellulose nanofibrils (CNF) – a chemical treatment of the fibers in which components such as lignin and hemicellulose are removed – which means the devices powered by the fibers won't reach their full potential either. Thus, controlling the alignment of cellulose fibers – keeping them 'kink-free' – while maintaining their mechanical properties, is vital.
To that end, a research team at the University of Maryland (UMD) Department of Materials Science and Engineering (MSE), led by MSE Professor Liangbing Hu, has created a transparent biofilm with the added feature of aligned bacterial cellulose nanofibers. These fibers are woven together in a single sheet, and then multiple sheets are bundled, giving way to a multi-layered film with record-high tensile strength (up to 1.0 GPa) and durability – even stronger than titanium alloys.
"Our group has achieved the highest mechanical strength ever reported for bacterial cellulose film, thanks to the high degree of multi-layered alignment achieved in this work," said Tian Li, an MSE post-doctoral researcher and one of the lead authors on the corresponding research paper.
The study, entitled, "Transparent, Anisotropic Biofilm with Aligned Bacterial Cellulose Nanofibers," was published online February 23 in Advanced Functional Materials.
This transparent film is also highly flexible, capable of folding into numerous shapes (see the airplane pictured above). What's more, "it offers tunable optical properties – it can be as clear as glass, or largely scatter light," Li indicated.
Applications for this technology include structural materials, semiconductors and LEDs, flexible/wearable electronics, solar cells and safety-critical/emergency applications (e.g., hydrogels that might be by used by first responders in life-saving situations).
For additional information:
S. Wang, T. Li, C. Chen, W. Kong, S. Zhu, J. Dai, A. J. Diaz, E. Hitz, S. D. Solares, T. Li, L. Hu. "Transparent, Anisotropic Biofilm with Aligned Bacterial Cellulose Nanofibers," Adv. Funct. Mater. 2018, 1707491. https://doi.org/10.1002/adfm.201707491
Published March 13, 2018