Christou Invited to Discuss Wide Bandgap Semiconductors, Physics-of-Failure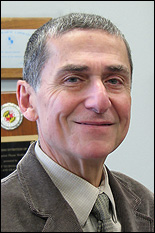 Department of Materials Science and Engineering professor
Aris Christou
is set to deliver invited talks at two international conferences this summer in Greece.
In June, he will open the plenary session of the XIV International Conference on Intergranular and Interphase Boundaries in Materials in Halkidiki, with a talk titled "Control of Surfaces and Interfaces for Enhanced Performance and Reliability of Wide Bandgap Semiconductor Devices." Held under the auspices of Aristotle University of Thessaloniki and Training and Consulting on High Performance Materials, France, the event, held once every three years, gathers the world's leading experts in interface science.
In July, Christou will present "Physics-of-Failure Design of Power Electronics for Energy Conversion Systems" International Congress on Materials and Renewable Energy (MRE 2013) in Athens, sponsored by the University of Bolton, U.K.
Published April 22, 2013