Cooking With Materials Science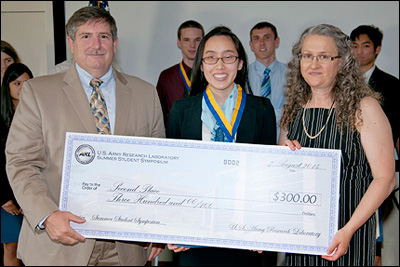 MSE undergraduate Helen Lan (center) receiving the Silver Medal and a cash prize for her presentation of a more efficient kitchen burner. Left: ARL Director Thomas Russell. Right: ARL Fellow Rose Pesce-Rodriguez.
The triumphant conclusion to Helen Lan's internship at the U.S. Army Research Laboratory (ARL) was cooking a burger at a symposium–and the audience at the Aberdeen Proving Ground loved it.
This was no ordinary cooking demonstration. Lan, currently a sophomore in the University of Maryland's Department of Materials Science and Engineering, was there to demonstrate a new kind of kitchen burner she developed under the guidance of research chemical engineer Dr. Ivan C. Lee, a member of the ARL's Sensors and Electron Devices Directorate.
While it may seem like a project for interns at Whirlpool or GE, the Army takes feeding hundreds or thousands of soldiers at a time very seriously, and it doesn't use ranges like the ones we have in our homes.
Power grids and natural gas supplies–let alone a Sears or a Home Depot–may be unavailable when the Army is on the move. In order to increase efficiency and reduce costs, the army powers as many appliances, pieces of equipment and vehicles as possible with a fuel known as JP-8. This includes their kitchen burners, which are specifically designed to use it.
These burners, however, have a few problems that may make you lose your appetite. According to Lan, they are noisy, release carbon monoxide due to incomplete fuel combustion, and are only 10–25 percent efficient. In order to propose something better, Lee decided that since they couldn't change the fuel, they would rethink the burner.
"Our objective was to create a JP-8-fueled catalytic burner that is quieter, results in complete combustion [so it] does not release carbon monoxide, and is 95 percent heat transfer efficient," Lan explains. "Our approach was to deposit a catalyst layer onto the backside of an aluminum cooking surface. Preliminary results have shown that applying a catalyst layer allows for over a 50 percent reduction in fuel consumption compared to [cooking surfaces] without one."
Lan presented their results–and cooked a burger using their prototype–at an ARL Student Symposium and competition, where she won a Silver Medal for her efforts. She hopes that one day a consumer version of the burner will be available.
Lan got her start in research even before she was a student at UMD. The summer before her senior year of high school, she worked with Professor Rachel Pinker (Department of Atmospheric and Oceanic Sciences), investigating the accuracy of temperature-recording satellites. During her senior year, she joined Assistant Professor Dongxia Liu (Department of Chemical and Biomolecular Engineering) and graduate student Laleh Emdadi on the development of fast, high-yield catalysts for use in the biofuel production process. It was Liu who introduced her to Lee, who was seeking an intern with prior experience.
"I really enjoyed getting hands-on and professional experience," says Lan of her time at the ARL. In addition everything she learned on the project, she says Lee also prepared and encouraged her to speak at the symposium, something she had previously never imagined she would enjoy. "I also got to meet so many other smart, kind, helpful interns and full-time employees," she adds, "and I'd love to work with them all again."
After earning her undergraduate degree in materials science and engineering, Lan plans to attend graduate school.
Published November 20, 2014