Empowering Voices in Engineering Workshop: Unspoken Issues in STEM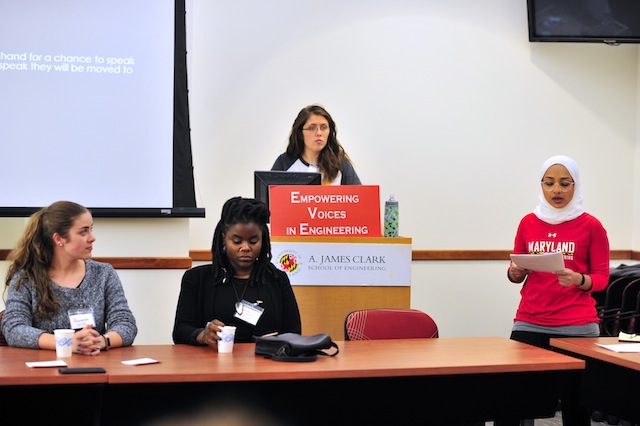 It's been nearly a year since the murder of Lt. Richard Collins III by a white supremacist on the University of Maryland (UMD) campus. Prior to the murder, student groups such as Protect UMD – a coalition of 25 student groups – had been protesting for change on campus. Now, the MSE student group EVE is encouraging all STEM students to challenge the current power structure, in solidarity with Protect UMD.
All students, faculty and staff are invited to attend a facilitated discussion - led by students - about specific problems that marginalized groups in STEM are facing. The goal is to discuss strategies for moving forward as a community, and outline specific steps that individuals can take to bring about collective action.
Event details:
Wednesday, April 11th, 2018
3:45 – 5:45 p.m.
1107/1111 KEB (Kay Boardrooms)
– Coffee & light refreshments will be provided –
MSE Graduate Students Naila Al-Hasan and Zoey Warecki created EVE – which is a series of dialogues tackling tough issues on campus with the ultimate goal of creating a more diverse and inclusive environment – in response to the murder of Lt. Collins in May, 2017. The first workshop, entitled, "Empowering Voices in Engineering (EVE): Equipping Engineers with the Knowledge and Tools Needed for Meaningful Conversations About Race," took place on September 15, 2017. Since then, topics have included "Understanding Racism and Building Community," "Self and Community Care in the Midst of Racial Trauma," and "Tools and Resources Needed to Speak Up."
If you have any questions, please contact Naila and Zoey at eveumd@gmail.com.
Published April 6, 2018