Gaither Wins NRC Postdoctoral Research Associateship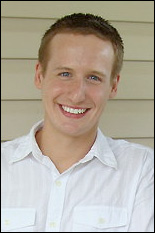 Department of Materials Science and Engineering (MSE) alumnus Michael Gaither (Ph.D. '11), formerly co-advised by MSE professor Isabel Lloyd and MSE adjunct professor Robert Cook (National Institute of Standards and Technology [NIST]) has been awarded a
NRC Postdoctoral Research Associateship
by the
National Academies
. The highly selective program funds two- to three-year appointments at federal research laboratories and agencies.
In January, Gaither began his appointment at NIST's Materials Measurement Laboratory, where he will work in the Ceramic Division's Nanomechanical Properties Group under the direction of Frank DelRio. Gaither will be examining silicon fatigue.
"Currently, there is ongoing debate in the literature about if and how silicon fatigues," Gaither explains. "My project will focus on the investigation of silicon fatigue in newly designed resonator structures to understand the mechanisms of fatigue and failure in the silicon components. With all of the advanced measurement technology at NIST, it provides a unique location to fully investigate this problem."
Gaither built a relationship with NIST during his time at Maryland, when he worked on the development of a novel micro-scale test structure to determine relationships between the processing, structure, and properties of materials and techniques used in the fabrication of microelectromechanical systems (MEMS). The goal of the work was to establish ways of manufacturing more reliable MEMS devices. After presenting his work at the 2010 Fall Meeting of the Materials Research Society, Gaither was invited to publish his results in the October 2011 issue of the Journal of Materials Research.
Published January 30, 2012