Karcz Takes 2nd In Dean's M.S. Thesis Competition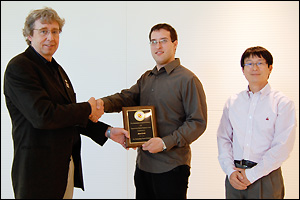 Department of Materials Science and Engineering (MSE) graduate student Adam Karcz, advised by MSE Assistant Professor Joonil Seog (joint, Fischell Department of Bioengineering), took second place in the 2010 Dean's Master's Student Research Award Competition. He was recognized for his thesis, "Probing Gene Delivery Mechanisms Using Optical Tweezers."
To give top Clark School doctoral student researchers special recognition that will be valuable in launching their careers, and to show all students the importance of high quality engineering research, Clark School Dean and Farvardin Professor Darryll Pines created the Dean's Master's Student Research Award Competition in 2009. Students submit their work through competitions at the department level, with winners from each advancing to the Dean's finals.
Optical tweezers use the optical forces generated by a laser to capture, or "tweeze", single-molecule samples such as proteins, peptides or DNA. Tiny amounts of force gently stretch and relax the sample, or hold it still, allowing researchers to observe its dynamics in real time. Karcz was instrumental in setting up the relatively uncommon device used in Seog's lab, which has been specially customized to be more compact, reduce noise and vibratory interference, and eliminate labor-intensive calibration steps.
"Setting up our optical mini tweezers was a very challenging task," says Seog. "Adam confronted many challenges in the beginning, but he overcame every difficulty. The research results he has obtained with the tweezers provide direct evidence for the potential mechanism of DNA release inside the cell. His observation of two completely different behaviors at the single molecule level depending on the structure of DNA carriers may provide rational design parameters for enhanced gene delivery carriers. Enhancing gene delivery efficiency is very important since it can reduce toxic side effects of some carriers and the total amount of treatment required."
Published May 7, 2010