Lidie Wins SMART Scholarship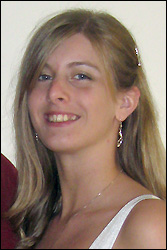 Department of Materials Science and Engineering (MSE) graduate student and alumna Ashley Lidie (B.S. '10) has been awarded a Science, Mathematics And Research for Transformation (SMART) Scholarship by the Department of Defense (DOD).
The highly selective SMART program was established to support the education of the nation's future scientists and engineers, and to increase the number of civilian scientists and engineers employed by the DOD. Undergraduate and graduate students in Science, Technology, Engineering and Mathematics (STEM) majors who are accepted into the program receive a full scholarship, a cash award of $25,000–$41,000, health insurance and textbook allowances, and mentoring. While earning their degrees, SMART Scholars are assigned to a DOD laboratory, in which they serve paid summer internships. After graduation, they continue to work for the DOD as civilian employees engaged in theoretical or applied research for a period of at least one year.
Lidie, advised by MSE professor and University of Maryland Energy Research Center director Eric Wachsman, will begin her first internship at the U.S. Army Communications-Electronics Research Development Center at the Aberdeen Proving Ground in the summer of 2012. On campus, her work will focus on the processing of ceramic materials for solid oxide fuel cells.
Lide became involved in research as an undergraduate, starting when MSE helped place her in what would become a three-year internship at the Army Research Laboratory (ARL) after her freshman year. There, she worked on ceramic processing of transparent armor and other transparent materials, published her results, and developed a "hunger for more knowledge."
The experience, combined with a love for the environment, inspired her to become involved in energy research as a graduate student, where she could apply her knowledge of ceramics to the design and fabrication of solid oxide fuel cells (SOFCs). And that, she says, beings her full circle, back to the Army and the SMART Scholarship.
"Fuel cells and batteries can be designed in a way that they can power a soldier's equipment without weighing him or her down," she explains. "This can allow for the implementation of new or enhanced technologies that are currently limited by their weight."
"Professionally, I want to have a career in which I can use materials science to increase the chances of bringing more soldiers home safely," she adds. "[The SMART] program has opened the door for me to do what I've always dreamed of—marry my love for materials science and the opportunity to help the American Warfighter. It will also allow me to focus on my work, knowing my future beyond my degree is already determined."
While her SMART scholarship will prepare her for her future, her experiences as an undergraduate prepared her to win it. In addition to her research, she credits her academic performance and her involvement in numerous student activities and societies. "The University of Maryland has set me up for success from the very beginning," she says. "If I had any advice to give, it would be to strive for more, do not be afraid to take on a new challenge, and embrace all this campus has to offer. The hard work will pay off!"
For More Information:
Visit the SMART Scholarship web site »
Published May 16, 2011