Maryland Engineering ranked #12 public undergraduate program in the country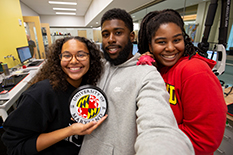 Maryland's A. James Clark School of Engineering is ranked #12 among the country's public engineering schools in U.S. News & World Report 2022 rankings of Best Undergraduate Engineering Programs. Maryland Engineering also rose to #21 in 2022 from #22 in 2021 in U.S. News' overall ranking.
U.S. News' report was released on September 13, 2021. In rankings for specific educational programs, five of Maryland's engineering programs rank in the top 20:
Top 10 program ranking highlights
Aerospace: #8 public, #12 overall
Top 20 program ranking highlights
Computer: #14 public, #22 overall
Electrical: #15 public, #24 overall
Mechanical: #12 public, #20 overall
Civil: #19 public, #29 overall
"For engineering that serves the public good — from quantum computers that help design better medicines to new materials that are safer, lighter and more durable — we really believe the world comes to Maryland. Our ranking is a reflection of that work and its impact," Robert Briber, Interim Dean of the A. James Clark School of Engineering, said. "We appreciate our peers for recognizing what we're doing at Maryland. We will continue to enhance our curriculum, initiate new nationally-focused research projects and serve our students, community and the discipline."
Continuing to build a national innovation hub
The college's improved standing in the ranking corresponds with the growing caliber of Maryland's national research and educational projects:
Excellence, recognized
In 2021, multiple Maryland Engineering faculty and students gained recognition from leading federal organizations and associations:
Six faculty members received NSF CAREER awards

Materials Science and Engineering professor Liangbing Hu became one of 31 finalists for the 2021 Blavatnik National Awards for Young Scientists

Clark Distinguished Chair and Professor Deb Niemeier was elected as a member of the American Philosophical Society

Distinguished University Professor, William L. Crentz Centennial Chair and Maryland Energy Innovation Institute Director Eric Wachsman was elected President of the Electrochemical Society

Minta Martin Professor and Department of Mechanical Engineering Chair Balakumar Balachandran received the J.P. Den Hartog and Lyapunov Awards from the American Society of Mechanical Engineering

Maryland's graduate and undergraduate student teams took top spots in the Vertical Flight Society's Student Design Competition

UMD's Loop team competed with 400 other applicants and was selected a finalist of Boring Company's Not-a-Boring Competition to design a hyperloop tunnel
Engineering design with everyone in mind
Maryland Engineering continues to build a strong supportive community welcoming people of all backgrounds into the engineering profession and promoting a diversity of ideas, points of view, and experiences.
Professor James Milke launched a study of the factors causing fire safety inequities around the world. Based on the findings, they intend to propose fire protection solutions that will help vulnerable communities back at home.

Since 2018, engineering freshmen and transfer students have started their first semester in the ClarkLEAD onboarding classes. This program launches every August with the Engineering Picnic for students to meet and mingle with their peers. In September, freshmen attend mandatory CliftonStrengths training to learn how they can collaborate in team-based environments. This event is followed by the mandatory TerrapinSTRONG ClarkLEAD course, which explores the importance of diversity and inclusive practices in engineering design. Finally, students can opt to participate in Equity & Inclusion in Engineering Design, which introduces them to the history of engineering, the role it has played in advancing exclusion, and ways to reverse this trend.
Published September 13, 2021