Maryland Graduate Engineering Ranked #10 Public in the Nation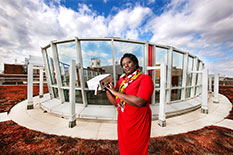 College Park, Md. — Discipline-defying combustion experiments aboard the International Space Station. New, advanced technologies that help farmers tap the economic potential and environmental benefits of shellfish aquaculture. Wood transformed into something bouncy, bulletproof, and that might help save our planet.
For these reasons and more, the A. James Clark School of Engineering at the University of Maryland (UMD) is ranked a Top 10 program for graduate-level engineering among the United States' public institutions in U.S. News & World Report's 2022 Graduate Education Rankings, released March 30. The 2022 rankings mark the Clark School's third consecutive year in the Top 10 for public engineering schools.
"What drives us at Maryland is training engineers and designing solutions that promote the public good, from batteries less prone to catching fire to drones that deliver life-saving organs. We're proud our students and faculty do work that improves people's lives and appreciate today's recognition of that commitment," says Robert Briber, interim dean of the Clark School. "Keep your eye on Maryland engineering: it's going to be an exciting year, and we're looking forward to sharing new discoveries and partnerships with the world."
The college ranks #20 overall among more than 200 public and private graduate engineering programs. The school's overall ranking rose from #24 in 2018 to #20 in 2021, maintaining that ranking in 2022's report.
Chemical engineering on the rise.
In the 2022 rankings, chemical engineering at Maryland climbed four spots among public institutions, to #19 from #23. Reasons for the increase include:
In the research lab of Associate Professor Akua Asa-Awuku, graduate students play a fundamental role in research on atmospheric nanoparticles (also known as aerosols) as they pertain to air quality, climate, and health. Projects range from a U.S. Army Lab (ARL)-funded initiative to classify aerosols with continuous, real-time measurements; to a National Science Foundation-funded effort to visualize the dynamic nanoscale processes that drive cloud droplet formation and influence climate; to a Bill & Melinda Gates Foundation-funded exploration of the measurement and transport of COVID-19 and other airborne disease aerosols.
"My mentees will one day become my peers, and I want them to be empowered to share their ideas, cultivate their voices, and use their personal strengths so that we can collaborate together," says Asa-Awuku.
Chunsheng Wang is one of the globe's most recognized experts in energy storage technology. Wang—who directs the Clark School's Center for Research in Extreme Batteries—also mentors a large team of graduate students and postdoctoral researchers working on solutions to accelerate non-flammable, high-energy batteries for commercial and military use. Their work is supported by large-scale grants from the U.S. Department of Energy, Army Research Lab, and other partners in innovation.
Wang's mentees are already achieving excellence, too. In just the past few years, students in his research group published high-impact papers on aqueous lithium-ion batteries in Science and Nature, organic electrolyte li-ion batteries in Nature Energy, Nature Nanotechnology, and solid state electrolyte lithium batteries in Nature Energy. A few of them later went to work for academic institutions in the U.S. and abroad. For instance, Wang's former postdoctoral researcher Chongyin Yang joined Dalhousie University in Canada as assistant professor and Tesla Canada Chair to create the next generation of energy storage solutions for electric vehicles.
"My philosophy is encouraging my students to think creatively and solve challenges posed by the need to develop safer high-energy li-ion batteries. It's critical for their future careers to have this opportunity to innovate while being supported by DOE and ARL funding," says Wang.
Computing, drones, COVID, diversity: reasons for a top ranking.
Other key work that contributed to the Clark School's high ranking includes:
Leading the quantum revolution.
The Clark School supports engineers and scientists working on technologies poised to revolutionize the quantum industry. Graduate students work alongside experts in quantum science and systems engineering in the Quantum Technology Center (QTC), which takes promising quantum advances from the lab to the marketplace. Not only does QTC translate quantum research into innovative technologies; the center is training students in the development and application of quantum technologies to produce a workforce educated in quantum-related engineering.
Alireza Seif (Ph.D. '20) studied quantum information theory, quantum optics, and the application of machine learning in physics as a doctoral student at Maryland. Along with Associate Professor Mohammad Hafezi and fellow graduate student Hwanmun Kim, Seif received the Noisy Intermediate-Scale Quantum (NISQ) award last year from Google to support research identifying and developing problems that simple quantum computers might help solve. He interned at IonQ, the first publicly traded pure-play hardware and software company in the quantum computing space co-founded in 2015 by QTC Fellow Christopher Monroe. Today, Seif is the Chicago Prize Postdoctoral Fellow at the University of Chicago.
"Our program at QTC encourages exploration into new areas of quantum technology and opportunities for hands-on experiences to advance students' careers," says QTC Founding Director and UMD Professor Ronald Walsworth.
Advancing drone capabilities and safety.
Flight safety software developed by UMD researchers and students could help unmanned aircraft respond to anomalies, malfunctions, and collision risks.
In the Clark School's Department of Aerospace Engineering, Assistant Professor Mumu Xu has been developing ways to help unmanned aircraft avoid collisions and respond effectively to unexpected situations, such as low visibility caused by dust or rain. This isn't just an academic exercise: with support from the Maryland Industrial Partnership (MIPS) program, she's partnering with Arlington-based Millennium Engineering and Integration (MEI) to test and implement the systems she and her students are developing.
"It's been a great opportunity for students to learn about how industry works by interacting with MEI employees and their summer interns," Xu says. "It also provides a real-life application that they can see in action."
Shaping policy response to COVID-19.
A team of graduate students is powering the development of a vital tool for researchers, policymakers, and journalists.
"I've not only been able to learn about cutting-edge technologies, but also to apply them to real-world applications in a way that benefits my career while also serving the general public. I feel really proud and that our work has helped inform the public about the spread of COVID-19," says Clark School doctoral student Mofeng Yang of his involvement with the Maryland Transportation Institute's COVID-19 Impact Analysis Platform, which harnesses cell phone data to track mobility trends during the COVID-19 pandemic.
The resource is maintained by a team of 11 graduate students in the transportation engineering program under the supervision of UMD Assistant Research Professor and project leader Chenfeng Xiong. Through the project students gain extensive, hands-on experience with industry-leading cloud computing technologies and big data/machine learning algorithms. Experience of this kind is rarely available at a graduate research program, but it is at the Clark School thanks to UMD's leadership in the transportation engineering and data mobility fields.
With the dashboard also tracking social and economic trends related to the pandemic, graduate students have the chance to work with leading experts in epidemiology, public health, economics, and the social sciences. "Standing up the platform in a timely manner to provide insights both to the public and to decision-makers and see the real-world impacts of this effort has been both thrilling and encouraging for the researchers working on this tool," says Ph.D. candidate Aref Darzi. He, Yang, and other team members have been interviewed by CNN, The Washington Post, and other media outlets covering trends tracked by the platform.
Confronting health disparities.
According to a 2017 study commissioned by the American Neurological Association, neurological diseases impact an estimated 100 million Americans every year. But many such diseases vary significantly in incidence, progression, or treatment depending on the patient's sex—for example, women are twice as likely as men to be diagnosed with Alzheimer's, yet men are 1.5 times more likely than women to be diagnosed with Parkinson's.

To address these disparities, Ph.D. student Callie Weber, a National Science Foundation Graduate Research Fellow and Clark Doctoral Fellow, works in the lab of Associate Professor Alisa Clyne to investigate how the differences between male and female cells affect the development of neurological diseases. As research increasingly points to the benefits of personalized medicine, scientists and drugmakers alike can move towards developing targeted therapeutics based on sex or other demographic categories to improve treatment efficacy. In addition to these studies, Weber and Clyne are working with collaborators in public health to shed new light on how exercise changes the way that brain vascular cells from male and female donors metabolize glucose.

"Sex biases are introduced when researchers fail to consider sex as a biological variable, which can have broad impacts on the efficacy of our treatments," Weber says. "By studying sex differences at a cellular level, we can pinpoint mechanisms that may differ with sex." The team's case for including sex as a biological variable in cell-based experiments was highlighted in APL Bioengineering earlier this month.
Investing in diversity.
In October, the Clark School and Amazon announced the Amazon Lab126 Robotics and Diversity Initiative, a strategic collaboration to advance diversity and robotics research and education.
Amazon Lab126 is Amazon's research and development team for consumer electronic devices, software, and operations such as the Fire, Kindle, and Echo. The lab is committed to advancing robotics through both cutting-edge research and increasing the pipeline for underrepresented minority talent entering the field. The initiative includes funding for two Ph.D. fellowships in robotics through the Maryland Robotics Center (MRC), as well as funding for the Center for Minorities in Science and Engineering and UMD's chapters of the Black Engineers Society and the Society of Professional Hispanic Engineers.
"Amazon Lab126 has shown a tremendous commitment to supporting diversity through this partnership," says Derek Paley, MRC director and Willis H. Young Jr. Professor. "These fellowships will give deserving Ph.D. students the resources they need to to conduct state-of-the-art robotics research while completing their degrees."
Top 10 Highlights:
Maryland Graduate Engineering: 10 public; 20 overall
Aerospace: 8 public; 13 overall
Electrical: 8 public; 16 overall
Mechanical: 9 public; 17 overall
Computer: 10 public; 18 overall
Top 20 Highlights:
Biomedical/Bioengineering: 14 public; 32 overall
Materials: 17 public; 26 overall
Chemical: 19 public; 30 overall
Civil: 19 public; 30 overall
###
The A. James Clark School of Engineering at the University of Maryland serves as the catalyst for high-quality research, innovation, and learning, delivering on a promise that all graduates will leave ready to impact the Grand Challenges of the 21st century. The Clark School is dedicated to leading and transforming the engineering discipline and profession, to accelerating entrepreneurship, and to transforming research and learning activities into new innovations that benefit millions.
Follow us online:
eng.umd.edu | Instagram | Facebook | Twitter | YouTube
Published March 30, 2021