Materials Graduate Society Hosts One of the "100 Most Influential People in the World"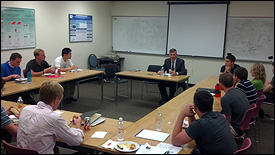 The
Materials Science Graduate Society (MSGS)
recently hosted a seminar presented by Donald Sadoway, an internationally recognized expert in the fields of renewable energy, energy storage (including
"liquid metal" batteries
), and "extreme electrochemistry." Sadoway, who was
named one of Time magazine's 100 Most Influential People in the World
in April 2012, is the John F. Elliott Professor of Materials Chemistry at the Massachusetts Institute of Technology's Department of Materials Science and Engineering. His
TED Talk
,
"The missing link to renewable energy,"
has been viewed close to 845,000 times on the TED web site, and over 99,000 times on YouTube.
Sadoway's seminar, "Innovation in Electrochemical Technology: from Batteries to Metals Extraction," discussed the application electrochemical technologies to common problems facing the renewable energy industry, including energy storage designed to compensate for the intermittency of renewable sources (for example, the sun does not always shine); and to molten oxide electrolysis (MOE), a process that can be used to convert metal oxides into metal and oxygen, enabling the production of pure base, reactive, and rare earth metals as well as the extraterrestrial generation of oxygen.
After the seminar, Sadoway participated in a "Chalkboard Talk," a casual forum held exclusively for students and postdocs in which they can ask a visiting expert questions about their research and their personal experiences in academia or industry.
For More Information:
Visit the Group Sadoway web site »
Published September 10, 2012