MSE Alumnus Appointed Chair of Mechanical Eng. at Temple U.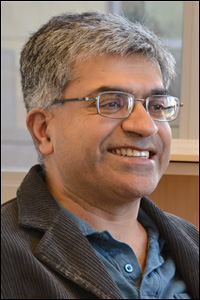 University of Maryland Department of Materials Science and Engineering (MSE) alumnus and MSE Board of Visitors member Harsh Deep Chopra (Ph.D. '93) has been appointed Chair of Temple University's Mechanical Engineering Department. Chopra came to Temple from SUNY–Buffalo, where he had been a professor in the Department of Mechanical & Aerospace Engineering since 2005.
During his time at the Clark School, Chopra was advised by Professor Manfred Wuttig (MSE). Together, the pair studied functional and smart materials for sensors and actuators for automotive, aerospace and robotics applications. Chopra has remained in the field, pioneering his own approach to materials genomics in order to understand how a variety of material properties—such as electric and magnetic—evolve from the single atom to the bulk. He continues to collaborate and publish with Wuttig.
Chopra chose a career in academia for the freedom it provides to pursue his own ideas at his own pace. He decided to take on the demanding role of department chair because he saw opportunity and potential. Temple's Mechanical Engineering Department, he says, is poised to double its size within the next few years.
"That's very attractive to me," he explains. "It has just the right elements, just the right faculty now, to grow and mature. That isn't something that comes along often. This is more than management—this is about guiding the department to the next level."
That includes implementing what he describes as a comprehensive curriculum that teaches students how to innovate, prepares them to work in either academia or industry, stresses design for sustainability, and demonstrates that research, teaching and service should all be part of a scientist's education and career.
Chopra is also thinking about the future of the field, which he believes will shift toward materials-by-design over the next ten years. "In this age of scarcity of resources, it will become critically important that researchers be able to design materials suited to specific needs and for maximum impact," he says.
Asked what advice he has for current or prospective students of MSE, Chopra urges them to broaden their views. "Learn to solve complex problems, because all of them are becoming interdisciplinary. Don't narrow your focus. Look beyond, and take ideas from other areas to innovate in your own."
Published December 8, 2014