MSE Researchers Discover New Materials, New Research Direction for High-energy Li-metal Batteries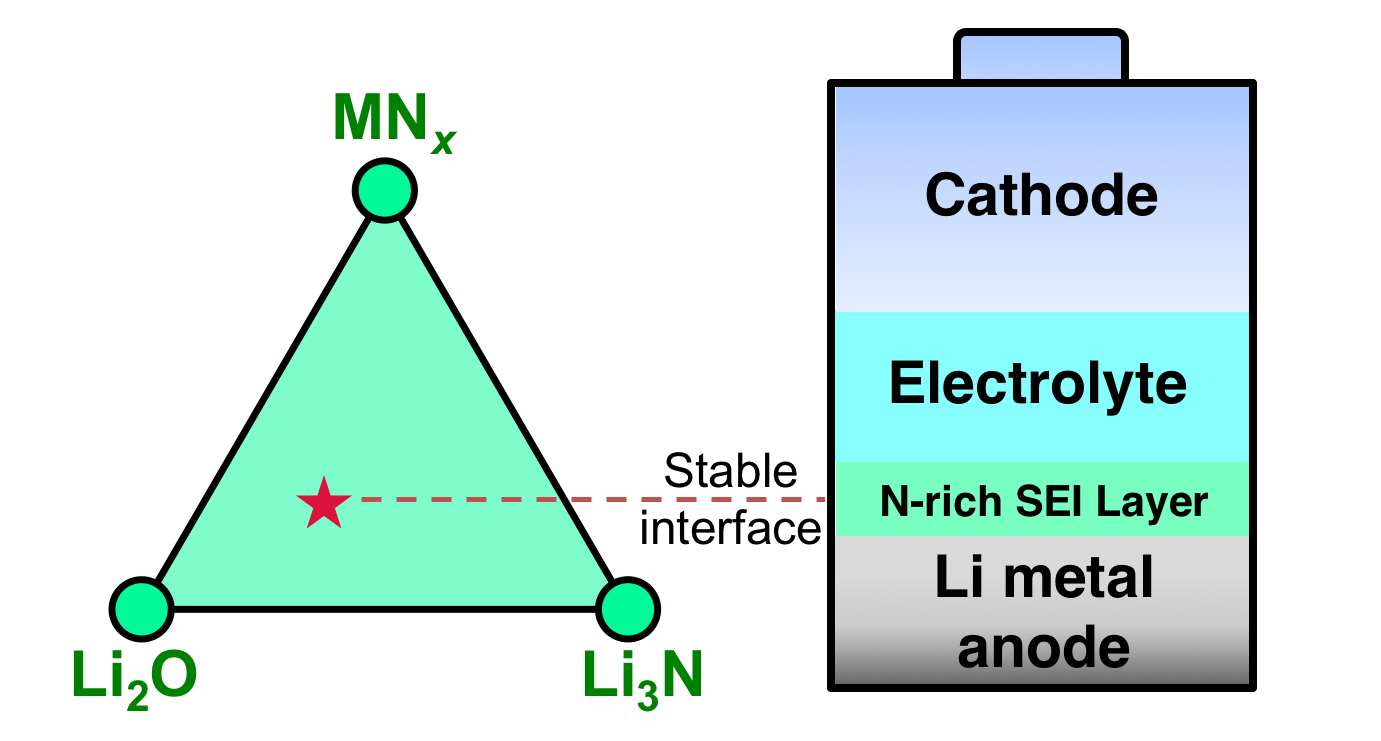 The Lithium-ion battery (LiB), commonly used in household electronics, is one of the most popular rechargeable batteries. It also happens to be one of the most volatile and responsible for the recent Tesla and Samsung Galaxy debacles.
Lithium metal, which packs lithium atoms in dense volume, is the most attractive anode for high-energy lithium-ion batteries. However, due to the strong reducing nature of lithium metal, the lack of long-term stability between a lithium metal anode and an electrolyte leads to quick battery capacity fade and cell failure (i.e. short battery life).
In an effort to remedy this problem, MSE Assistant Professor Yifei Mo, and MSE Ph.D. Students, Yizhou Zhu and Xingfeng He, performed quantum mechanical calculations powered by a large-scale materials database, which revealed lithium-stable materials in a variety of chemistry across the periodic table.
"We discovered that nitrides exhibit unique thermodynamically intrinsic stability, which are ideal materials candidates to protect a lithium anode with no degradation over long term," said Dr. Mo. Unlike oxides, sulfides and halides (commonly used for Li-protection), nitrides, it seems, provide a natural resistance to Li-reduction.
"Based on this recently gained knowledge, we propose a new research direction of using nitride materials and nitrogen doping to ultimately stabilize Li-metal," and further the development of high-energy, rechargeable lithium batteries; thus, the development of, for example, long-range electronic motor vehicles.
Mo's team is collaborating with multiple research labs at the University of Maryland, and across the world to realize this new technology in the lab.
This research entitled, "Strategies Based on Nitride Materials Chemistry to Stabilize Li Metal Anode," is published in Advanced Science. To read the paper in its entirety, follow this link: http://dx.doi.org/10.1002/advs.201600517
Published April 20, 2017