MSE Researchers Shahin and Christou Published in Applied Physics Express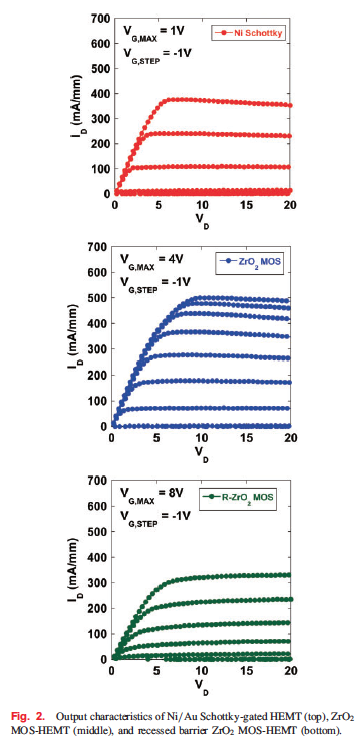 David Shahin, graduate student in the Department of Materials Science Engineering (MSE) at the University of Maryland, along with MSE Professor Aris Christou, recently published an article entitled, "Enhancement mode AlGaN/GaN MOS high-electron-mobility transistors with ZrO2 gate dielectric deposited by atomic layer deposition" in Applied Physics Express.
The digital newspaper, SemiConductor Today, also featured the article: http://www.semiconductor-today.com/news_items/2016/jul/nrl_190716.shtml
Abstract: Advanced applications of AlGaN/GaN high-electron-mobility transistors (HEMTs) in high-power RF and power switching are driving the need for insulated gate technology. We present a metal–oxide–semiconductor (MOS) gate structure using atomic-layer-deposited ZrO2 as a high-k, high-breakdown gate dielectric for reduced gate leakage and a recessed barrier structure for enhancement mode operation. Compared to a Schottky metal-gate HEMT, the recessed MOS-HEMT structure demonstrated a reduction in the gate leakage current by 4 orders of magnitude and a threshold voltage shift of +6 V to a record +3.99 V, enabled by a combination of a recessed barrier structure and negative oxide charge.
Published July 21, 2016