MSE Students Visit W.L. Gore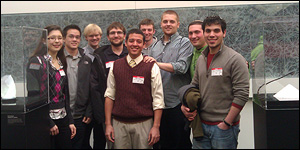 Nine students from the Department of Materials Science and Engineering (MSE) recently toured the
W.L. Gore and Associates
facilities in Newark, Delaware. The trip was sponsored by the department's undergraduate
Materials Engineering Society (MatES)
and organized by its treasurer, Douglas Trigg. W.L. Gore's Tiffany Herman hosted the visit.
Gore is a leading manufacturer of specialty materials, including its famous GORE-TEX® fabric, which is used in high-performance outerwear. The company also produces cables, electronic and energy components, clean room and safety fabrics, filtration products, biomedical and pharmaceutical products, vents, and sealants.
"We choose [to visit Gore] because of their strong background in applications of materials science—specifically with ePTFE," says Trigg, referring to the company's proprietary version of polytetrafluoroethylene, a polymer with a variety of useful properties, including strength and thermal and chemical resistance. "It was also chosen because of its great work atmosphere."
Students were given a tour of the Gore Capabilities Center, which demonstrates how the company handles problems and finds different applications for the same base material, such as ePTFE, by changing one or two of its properties to fit a particular need.
"What I think students came away with was a thought process on how to address problems," says Trigg. "First problems are assessed based on their impact [on] people. Then the solutions are looked at based on a certain material: How can we improve this existing situation with the application of our material? Then design, testing, and characterization come into play. It was strongly emphasized that this may not be the exact order for everything, but certainly all the steps are present in their new product development [process]. One strong takeaway was the concept of designing to meet a goal, which is the essence of engineering."
Trigg says that MatES hopes to team up with the Materials Science Graduate Society (MSGS) to plan similar, future field trips. Anyone interested may contact MatES via e-mail at mates.umd@gmail.com.
Published March 23, 2012