NanoCenter Funding Means Major Advances for MSE Department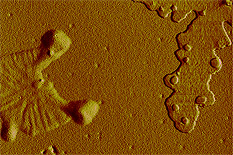 "This award represents a quantum jump in our nanofabrication capability."
The Maryland State General Assembly's recent approval of $3.65 million in funding for Maryland NanoCenter (formerly the Maryland Center for Integrated Nano Science and Engineering [M-CINSE]) will provide new state-of-the art capabilities for nanofabrication and nanotechnology to faculty, students, and research programs in the Clark School's Department of Materials Science and Engineering (MSE). The NanoCenter and its FabLab (a campus-wide facility) are led by MSE faculty member Gary Rubloff.
"This award represents a quantum jump in our nanofabrication capability," says Professor Robert M. Briber, Chair, Materials Science and Engineering, "providing funds for such tools as advanced electron beam lithography and other nano-centric equipment, as well as some of the missing links in our more conventional processing portfolio...such funds are extremely difficult to get through normal funding channels. Furthermore, the award signifies the importance with which the State views the strategic value of the NanoCenter and the University to the economic and technological competitiveness of Maryland."
The NanoCenter's support and recognition have created a buzz in the industry; business journals across the country have reported on the recent grant. The NanoCenter's research and education initiatives have been ranked first in the nation by Small Times Magazine (May/June 2005).
For more information about the Maryland NanoCenter, visit:
www.nanocenter.umd.edu
Related News:
"State Approves $3.65 Million for NanoCenter"
Published June 22, 2006