Open House Attracts Prospective Students, MSE Majors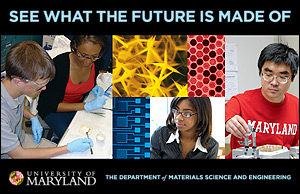 A recent Saturday open house event attracted prospective students and their families who wanted to learn more about the Department of Materials Science and Engineering (MSE), including its program, faculty, facilities, and students. The event was designed for prospective freshmen as well as undecided engineering majors already on campus. Over 50 people attended.
After a pizza lunch, Professor and Chair Robert M. Briber delivered a presentation about the MSE program, and alumna Erin Flanagan shared her experiences and perspective on how majoring in MSE prepared her for a job at Micron Technology, Inc., a leading manufacturer DRAM components and flash memory.
Visitors toured the Jeong H. Kim Engineering Building, ultimately arriving at the Modern Engineering Materials Instructional Laboratory for hands-on demonstrations. After wrapping up their experiments, they concluded their visit with a meet-and-greet with faculty, as well as current undergraduate students including Colin Heikes, Richard Suchoski, and Hillary Lane.
Prospective students also had the opportunity to apply for a $2000 "Top Terp" merit scholarship offered to incoming freshmen who decide to major in MSE.
If you or your family is interested in visiting the Department, or learning more about future events, please contact MSE Assistant Director of Student Services Dr. Kathleen Hart at (301) 405-5989 or hart@umd.edu.
Learn More:
Meet some of our current undergraduates »
Meet some of our alumni »
Learn more about the undergraduate program in MSE »
Published April 16, 2008