Prof. Leite research featured on cover of Advanced Optical Materials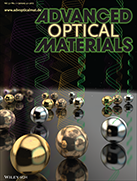 The work of Prof. Marina Leite of IREAP and MSE was recently featured on the cover of Advanced Optical Materials. It details the fabrication of alloyed metallic nanostructures with engineered optical properties for applications ranging from nanophotonics to hydrogen sensing.
In addition to Prof. Leite, congratulations to lead author Chen Gong, Mariama Rebello Sousa Dias and Garrett C. Wessler (undergraduate), and co-authors Joshua A. Taillon, and Prof. Lourdes G. Salamanca-Riba.
Published January 4, 2017