Rubloff One of 9 Finalists for UMD Invention of the Year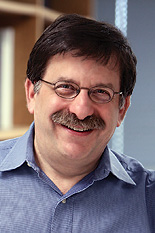 For University of Maryland researchers, the last year has marked a series of new discoveries and innovations. UMD's Office of Technology Commercialization (OTC), part of the Division of Research, will honor nine nominees for Invention of the Year Awards at its Celebration of Innovation and Partnerships event on April 29. The finalists were selected from among 187 UMD-based patent disclosues filed in 2014, based upon their potential impact on science, society, and the open market. Winners of this year's competition will be announced in three divisions: physical sciences, life sciences, and information sciences.
One of the finalists is Department of Materials Science and Engineering (MSE) and Institute for Systems Research professor Gary Rubloff.
Rubloff, the director of the Maryland NanoCenter and NEES II, UMD's Energy Frontier Research Center, was nominated in the Physical Sciences division for his invention of a nanopore battery with high energy density and excellent capacity retention. The battery is made of nanotubular electrodes and an electrolyte, all confined in an anodic aluminum oxide nanopore. It is an all-in-one device and shows promise for higher energy availability for a given power density due to a larger surface area and shorter transport time for the ions in the electrode material. It signifies the potential that nanostructure design has for high power electrochemical storage.
Rubloff has made it to the final round of the competition—and won—before. In 2010, he and his research group took top honors for their creation of a nanoscale electrostatic capacitor that stored up to ten times more energy and cost far less to manufacture than contemporary technology. In 2009, he was a finalist in the Life Sciences division for his invention of an active membrane formed by a pH gradient in microfluidic devices. In 2008, his team's creation of a two-terminal nanotube that enhances the efficiency of energy capture, storage, and delivery placed third in the Physical Sciences division.
Rubloff is the latest in a line of MSE professors and NanoCenter members to reach the final round of or win the OTC competition.
In 2014, professors Eric Wachsman and Liangbing Hu won Physical Sciences Invention of the Year for their development of a new rechargeable battery that is stronger, lighter and lasts for more recharging cycles than the lithium-ion batteries currently in use. The same year, MSE professor Gottlieb Oehrlein and MSE graduate student Dominik Metzler were nominated in the same category for their design of a system for atomic layer etching of silicon dioxide.
In 2011, MSE professors Ichiro Takeuchi and Manfred Wuttig, MSE adjunct professor Jun Cui, and MSE research associate Yiming Wu won Physical Sciences Invention of the Year for their design of a cooling system based on a two-state thermoelastic shape memory metal alloy. Takeuchi, Wuttig and their collaborators were runners-up in the same division in 2005 for their creation of improved device arrays for microelectonics.
In 2009, MSE professor Sreeremamurthy Ankem was a finalist the Physical Sciences division for his invention of microporous bone-implant joints.
In 2008, MSE graduate student and Fischell Fellow Dan Janiak (B.S. '04 and Ph.D. '09, materials science and engineering) won Invention of the Year in the Life Sciences division for his work on a molecularly imprinted polymer (MIP) capable of filtering viruses from blood.
Published March 24, 2015