Shahin Among Top 2% of UMD Graduate Assistants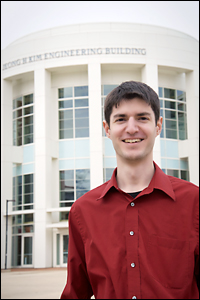 Department of Materials Science and Engineering Ph.D. student David Shahin, advised by MSE professor Aris Christou, has received a 2015 Outstanding Graduate Assistant Award from the University of Maryland Graduate School.
According to the Graduate School's web site, "Approximately 4,000 UMD graduate students also serve the campus as administrative, research, or teaching assistants. The Graduate School has established this new award to recognize and honor the outstanding contributions that Graduate Assistants provide to students, faculty, departments, administrative units, and the University as a whole. The award conveys the honor of being named among the top 2% of campus Graduate Assistants in a given year."
Shahin and his fellow awardees will be recognized at the 2015 Annual Fellowship and Award Celebration on May 7, 2015.
Earlier this year, Shahin was one of only 75 students nationwide to receive a Naval Research Enterprise Internship Program (NREIP) fellowship.
Published May 7, 2015