Chang Wins Outstanding ASPIRE Research Award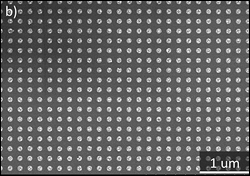 University of Maryland Department of Materials Science and Engineering (MSE) senior Allen Chang's work on developing a new type of plasmonic (metallic and highly conductive) alloyed nanoparticle for use in solar cells has earned him the A. James Clark School of Engineering's 2015 Outstanding ASPIRE Student Research Award.
ASPIRE, A Scholars Program for Industry-Oriented Research in Engineering, run by the Clark School's Maryland Technology Enterprise Institute (Mtech), offers students the opportunity to move beyond the classroom by working with faculty or staff on real-world engineering projects. Chang carried out his project under the direction of MSE and Institute for Research in Electronics and Applied Physics assistant professor Marina Leite, and was also mentored by MSE graduate students and fellow group members Chen Gong and Elizabeth Tennyson.
Chang's goal is to improve the nanoparticles that are deposited on the top surfaces of solar cells whose function is to increase the amount of light scattered into them. These particles are typically made of silver. In his ASPIRE project, Chang explored whether he could replace the pure silver nanoparticles with ones made of a silver-aluminum alloy, and determine whether those new particles could perform as well or better than the originals. Since aluminum scatters short wavelengths of light more effectively and costs less than silver (about five cents per ounce versus over $16.50 per ounce1), the adoption of a successful alloy nanoparticle in industry would reduce the overall cost of solar cells.
"We have been able to fabricate sequentially deposited silver-aluminum nanostructures of varying sizes on different substrates," he says. "We have yet to determine the effect on solar cell efficiency of the 100-nanometer diameter particles that we are most interested in. Once we perform those measurements, we'll have the chance to quantify the effect of alloying the metals."
"Allen is a highly motivated student who independently conducted this research project," says Leite. "We are very excited about the preliminary results that he obtained, and expect to incorporate and test the alloyed nanostructures on working solar cells in the near future. I am very pleased with the ASPIRE program, which gave him a unique opportunity to develop high-level research as an undergraduate student." She adds that the project will continue in collaboration with MSE professor Lourdes Salamanca-Riba's group, thanks to funding from the ADVANCE UMD/NSF Seed Grant award program.
When he graduates this spring, Chang will leave the lab he loves and his home state behind. In September, he'll join the University of Massachusetts Amherst, where he will pursue his Ph.D. in the Department of Polymer Science and Engineering. It was a tough decision, but he feels prepared.
"I believe my undergraduate degree in materials science and my time in Dr. Leite's group have given me a broad view of materials research," he says. "My graduate studies will hone in specifically on polymer science and engineering, which I want to use to bring organic LEDs and organic photovoltaics to higher levels of efficiency and market competition."
1 As of March 2015. Retrieved 05 May 2015 from http://www.indexmundi.com/commodities/?commodity=aluminum&months=24&commodity=silver
Published May 8, 2015