Takeuchi Interviewed About PZT Replacement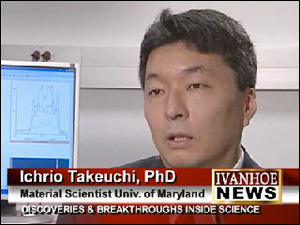 MSE associate professor Ichiro Takeuchi was recently interviewed by Ivanhoe Broadcast News about his new lead-free material, bismuth samarium ferrite, designed to replace the widely-used, lead-based lead zirconate titanate (PZT), the material of choice for transducers, actuators, sensors, and microelectromechanical systems used in common electronic devices. The segment shows Takeuchi working in the Keck Laboratory for Combinatorial Nanosynthesis and Multiscale Characterization and features an animated sequence explaining the combinatorial materials synthesis process by which the material is made.
Ivanhoe, the country's largest news-gathering organization covering medical breakthroughs, family health and issues important to women, produces four syndicated brands of medical, science and health report segments broadcast by over 250 television markets reaching 80 million U.S. households.
The video segment and a related news story can be viewed online on the Ivanhoe.com web site.
Related Story:
"Reducing Our Lead Footprint" »
Published April 5, 2009