Takeuchi Selected for Special NAE Symposium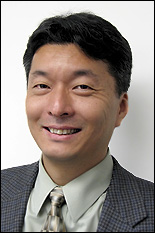 Department of Materials Science and Engineering Associate Professor
Ichiro Takeuchi
is among 100 of the nation's most outstanding young engineers invited to attend the National Academy of Engineering's (NAE) 2008 U.S. Frontiers of Engineering Symposium in Albuquerque, New Mexico, September 18-20.
The annual symposium is a three-day meeting that brings together a select group of young engineers (aged 30-45) from industry, academia, and government to discuss pioneering research in a variety of fields. The event provides an opportunity for attendees to learn about cutting-edge developments in a variety of fields, foster new collaborations, and share new approaches and techniques. Through both formal sessions and informal discussions, the meetings have proven an effective mechanism for the establishment of cross-disciplinary and cross-sector contacts among future engineering leaders. Although the emphasis is on new technology, participants are strongly encouraged to share their experiences in the development and deployment of products in industry.
"America's competitiveness will largely depend upon the next generation of innovators," said NAE President Charles M. Vest in a recent press release about the symposium. "The U.S. Frontiers of Engineering program brings some of the country's rising-star engineers...together for an exchange of ideas that will surely help contribute to keeping us at the forefront of technological advancement and may even spark a breakthrough that changes the way we live."
This year's symposium will cover a variety of topics including nanoelectronic devices, cognitive engineering, drug delivery systems, and the counter-proliferation of weapons of mass destruction.
Takeuchi was nominated to participate in the NAE Frontiers Symposium by University of Maryland President C.D. (Dan) Mote and Clark School Interim Dean Herbert Rabin.
Established in 1964, the NAE is an independent, nonprofit institution that provides leadership and guidance to the nation on the application of engineering resources to vital issues.
For More Information:
Professor Takeuchi and his research »
Visit the Frontiers of Engineering Symposium site »
Published June 9, 2008