Tapp Wins NASA Scholarship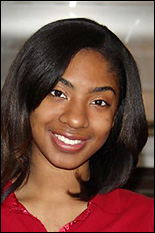 Materials Science and Engineering senior Maeling Tapp has been named a 2006 NASA Motivating Undergraduates in Science and Technology (MUST) Program Scholar. MUST is funded by a $1.75 million grant from NASA and is administered by a consortium lead by the Hispanic College Fund (HCF), with the support of the Society of Hispanic Professional Engineers (SHPE) and the United Negro College Fund Special Programs Corporation (UNCFSP). The MUST Program awards scholarships of up to $10,000 and internships to undergraduate students of science, technology, engineering, and math. MUST Scholars also have access to tutoring, summer research programs, and lectures, as well as academic, industry, and peer mentors.
"I consider it a great opportunity to be a part of the NASA MUST Scholarship program," says Tapp, "where I will have the privilege to work with scientists and engineers on research guided by NASA's mission 'to pioneer the future in space exploration, scientific discovery, and aeronautics research.' I am very interested in and excited to have the opportunity to participate in materials-related research with NASA. It's actually been something I've wanted to do from the time I started high school."
In the past year, Tapp has also received ASM International's Williams Scholarship, and an ExxonMobil Technical Scholarship. She is a member of the QUEST (Quality Enhancement Systems and Teams) Program and the Engineering Honors program, and is also pursuing a minor in Spanish.
Related Stories:
Tapp Receives ExxonMobil Scholarship
MSE Junior Maeling Tapp Receives Williams Scholarship
About the MUST Program:
Published November 2, 2006