Team MSE Takes 3rd in Alumni Cup Competition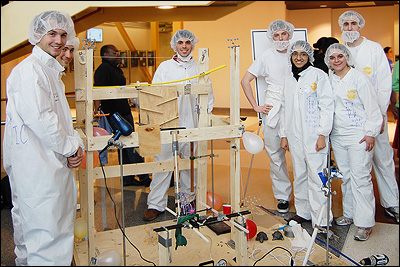 In a first-of-its-kind competition at the Clark School, teams representing each department competed for the Clark School Alumni Cup on February 24 as part of National Engineers Week. The final standings put the Department of Materials Science and Engineering (MSE) in third place.
Each team had less than one week to create a Rube Goldberg-inspired device designed to inflate and pop a balloon at least ten inches in diameter. Many of the teams stayed up three nights in a row to complete their projects. During the competition, each team had three chances to run their devices. They were judged on overall success, effective incorporation of themes and concepts from their respective disciplines in their devices' functionality, and school spirit.
The members of Team MSE, who showed their spirit by donning decorated cleanroom suits, included undergraduates Natan Aronhime, Nick Faenza, Coit Hendley, Sepideh Parvinian, Kathleen Rohrbach, Ben Shefter, Komal Syed, and Nick Weadock.
Team MSE's device began with a ball resting on a piece of toilet paper. After water was applied to the toilet paper, it corroded, releasing the ball down a tube. The ball landed on a switch, which turned on both a vacuum pump, whose exhaust began to inflate the balloon, and a hair dryer aimed at a piece of stretched shape memory metal. As the shape memory metal heated, it contracted to its original form, pulling open a gate and releasing a magnetic metal ball, which rolled through a slightly angled copper tube. The ball's magnetic field created an opposing field in the tube, slowing down its progress so it would take approximately 20 seconds to reach the other end, allowing the balloon time to inflate to the required size. When the magnetic ball finally emerged from the tube, it dropped into a cup, triggering the release of a toy car down a ramp. At the end of the ramp, the car knocked a ball onto a plinko board. The ball traveled down the plinko board (which in this case represented phonon scattering), knocked into another toy car, which in turn sent yet another ball through a funnel and into a miniature Ferris wheel. As the Ferris wheel turned, it pulled a pin, releasing a platform. A piece of Silly Putty attached to the platform began to stretch from the load placed on it (representing creep) until it broke. The Silly Putty fell into a cup, which pressed down on a pair of scissors, cutting a string holding a hammer (representing a Charpy impact test), which in turn fell on the balloon, popping it.
The competition was judged by Associate Dean Bill Fourney, Alumni Director Josey Simpson, and alumni Doyin Adewodu (M.S. '10, electrical engineering) and Greg Wollard (B.S. '89), engineering alumni chapter president.
"The Clark School Alumni Chapter exhibited strong commitment to students in managing and providing funding for the competition, in particular Kevin Schoonover, B.S. '06, aerospace engineering, and Liz Goldwasser, B.S. '03, mechanical engineering, who devised the idea," said Clark School Dean Darryll Pines.
Published February 27, 2012