UMD to Compete in U.S. DOE Solar District Cup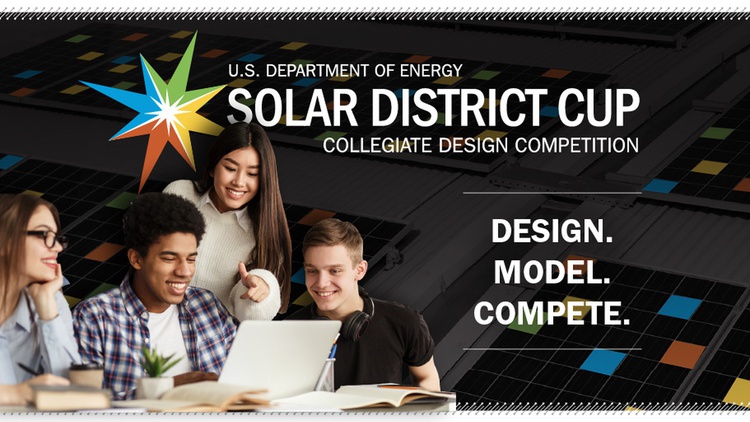 An interdisciplinary team from the University of Maryland—led by students, faculty, and staff from the A. James Clark School of Engineering—will vie for solar-powered victory at the 2021 U.S. Department of Energy's second annual Solar District Cup. UMD will go head-to-head against 58 collegiate teams from across the United States to design and model an optimized renewable energy system to power a real-world campus or urban district.
Team Maryland will include graduate and undergraduate students and professional advisors from the Clark School; the School of Architecture, Planning and Preservation; the College of Agriculture and Natural Resources; the College of Computer, Mathematical, and Natural Sciences; the Smith School of Business; and other disciplines across campus.
"Competitions like the Solar District Cup require a lot of different perspectives; we can't be myopic," said student team leader Oluwadara "Tim" Owoeye, a senior majoring in materials science and engineering. "We need to consider the site aspects, critical habitats, financing, even cultural references. An interdisciplinary team is really important."
The Solar District Cup is sustainability in overdrive: devise the most innovative, cost-effective solar energy system possible for a mixed-use district or cluster of buildings, maximizing the energy offset and financial savings over the life of the system. Students must reinvent how energy is generated, stored, and used through a mix of solar systems, storage, and other optimized systems. Each team is assigned one of three sites by the competition to build out; past participants have canvased rooftops with PV panels, integrated thermal storage systems, and leveraged offsite solar installations. The strongest designs with the highest offset of annual energy and greatest financial savings will advance to the finals, where students will present to judges live.
The UMD team's site, the University of Central Florida (UCF), has the "sunshine state" advantage but a complicated terrain; the team must manage solar photovoltaic placement with nearby forest preservation, devising a system that adds to the beauty and function of campus. The team is also cognizant of the land's history; UCF was home to the Timucua and Seminole tribes. The team plans to work with tribal representatives to ensure their design pays homage to the site's heritage.
"These real-world, complex projects require us to consider not just the engineering, but how this project will impact the community," said team advisor Bryan Quinn, director of technical operations for the Department of Electrical & Computer Engineering and Institute for Research in Electronics & Applied Physics. "The students have to build this complex system that addresses multiple needs for power and action, but it also should add something beautiful to the site. Maryland has a long tradition in this type of experiential learning, and I think that spirit gives us an advantage."
Another advantage? UMD's winning streak. Maryland has participated in five solar decathlons over the past 15 years, placing second twice and claiming first with its solar house, WaterShed, in 2011. Many of the consulting faculty and staff on the reACT house, which took second place in 2017, are reprising their roles for the District Cup, as is Owoeye; he was a freshman when he joined the reACT team and helped show them to victory in Denver.
"I have learned a lot in four years," he laughed. "I knew the stuff but didn't understand it. I feel like I'm bringing a lot more to the table this time around."
The team has one month to put together their initial plans and submit the competition's required progress deliverables; finalists will be announced in December. Finalists will present virtually in April.
The Solar District Cup is directed and administered by the U.S. Department of Energy (DOE) and the National Renewable Energy Laboratory (NREL) and is funded by the DOE Solar Energy Technologies Office. It was created to spark interest in renewable energy and build an understanding of how technology, project planning, and economics work together to create sustainable places. While the District Cup doesn't require the construction of a house like the Solar Decathlon, scheming a complex, sustainable, and beautiful energy system for what equates to multiple city blocks will demand the full interdisciplinary might of UMD students.
"It's a grander challenge," said Quinn. "It's beyond technical and design; we have to consider the context, the economics, logistics, and planning, and that means bringing in amazing students from all different disciplines to work together. It's the first step to changing the world."
Team Maryland is looking for students and advisors in engineering, business, real estate development, environmental sciences, computer science, and architecture to help bring home victory. Interested in joining the team? Complete this webform to learn more.
Published October 19, 2020