UMD Will Be Represented at International Summit on Stability of Organic and Perovskite Solar Cells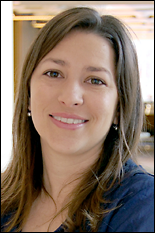 The 2017 International Summit on Stability of Organic and Perovskite Solar Cells (ISOS 10) will take place October 18-20 at the Cavalieri Art Hotel in Malta. UMD Materials Science and Engineering Associate Professor, Marina Leite, has been invited to give one of the keynote presentations.
ISOS-10 will feature numerous presentations, offered by both industry and academic experts, of solar cell technology on stability regarding varying conditions of (organic and perovskite) solar cells. Discussions will focus on laboratory experiments and application; strategies to develop more stable devices; methods for in-depth characterization, and development and application of standards.
While recent efforts have focused on developing recipes for making solar cells, the primary limiting factor of perovskites for commercial photovoltaic applications is still related to materials' stability.
"We are very excited about our most recent scientific findings related to the dynamic electrical behavior of perovskite solar cells," said Dr. Leite. "Using the functional imaging platform that my team and I developed at UMD in the last 3 years, we are now answering key open questions in this fast-changing field."
The Summit will be hosted by the Malta College of Arts, Sciences and Technology. For additional information, please contact Dr. Leite (mleite@umd.edu) or visit the Summit website, http://iict.mcast.edu.mt/isos10/.

Related stories:
Sunbeams at the Nano-scale: the Next Generation of Solar Cells - UMD/MSE, March 2017
MSE Research Group's Invited Perspective Published in ACS Energy Letters - UMD/MSE, August 2017
ACS Energy Letters perspective.
Published October 11, 2017