What's Materials Science? High School Students Spend the Day with MSE to Find Out!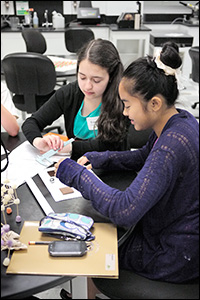 Most people know that engineers are scientists, but not everyone can explain what engineers, or engineers in a particular field, do. And not everyone realizes just how many branches of engineering there are. The A. James Clark School of Engineering is working to change that through a variety of outreach programs designed to introduce students of all ages to the diverse, interdisciplinary opportunities a career in engineering has to offer.
Over the summer, the Department of Materials Science and Engineering (MSE) joined forces with the Clark School's Women In Engineering (WIE) program to host a Leadership Enhancement, Application and Design (LEAD) Academy. LEAD Academies give high school students the opportunity to immerse themselves in an engineering discipline for a day, conducting experiments, learning fundamental concepts, and meeting students, faculty, staff and alumni.
MSE associate professor John Cumings launched the program by introducing the field of materials science and engineering and outlining the day's activities. MSE associate professor Oded Rabin explained crystal structure by having students build "crystals" with toothpicks and gum drops. Graduate student Colin Gore then guided students through an experiment that calculated the hardness of a very popular material: chocolate!
Over lunch, Gore and fellow graduate student Amy Marquardt described their research: Marquardt is designing nanometers-thick coatings for fine and sterling silver, with the goal of protecting museum artifacts from tarnish; while Gore is designing efficient solid oxide fuel cells capable of using any fuel to generate power–gasoline today or hydrogen in the future.
After lunch, Cumings introduced semiconductors and solar cells, and the students performed another experiment in which they tested the cells' performance under different wavelengths of light.
Associate Director of Student Services Dr. Kathleen Hart was on-hand throughout the day to answer any questions about the undergraduate program in MSE.
The day concluded with an ice cream social at which students had the opportunity to mingle with students and faculty, ask questions about what it's like to major in MSE, and what it's like to work in the field.
For more information on WIE's summer programs for K-12 students, visit www.wie.umd.edu/k12. Boys are welcome too!
Published August 13, 2013