Wuttig Wins 2013 Senior Faculty Research Award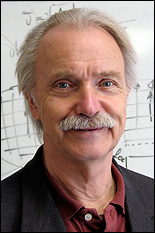 Clark School Department of Materials Science and Engineering (MSE) Professor Manfred Wuttig has received the 2013 Senior Faculty Outstanding Research Award.

Wuttig is recognized for his transformational contributions to the traditional fields of metallurgy and ceramics into the modern field of functional materials. Most recently, Wuttig's groundbreaking research in the area of multiferronic materials has paved the way for the design of materials with novel and unique properties, and will have far-reaching implications for several engineering fields.

"Professor Wuttig is known not only for his profound impact and discoveries in materials science and engineering, but also for his extensive and extremely successful mentorship of graduate students and young scientists," said Clark School Dean and Farvardin Professor of Aerospace Engineering Darryll Pines.

Wuttig joined the University of Maryland's Department of Chemical and Nuclear Engineering in 1986, and he has served as director of the Graduate Program in Materials Science since the late 1990s. Before joining the university, he was a physics lecturer at Physikalisch-Technische Bundesanstalt, Berlin; a research associate at the Gauss Ingenieur Schule, Berlin; a professor in the Department of Metallurgy at both the University of Illinois and the University of Missouri–Rolla; and Director of the National Science Foundation's Metallurgy Program. He earned his degree of Dr. -Ing. at Technische Hochschule Dresden and Technische Universität Berlin in 1958.
Professor Wuttig's recent research projects include the synthesis and characterization of magnetoelectric composites, organic multiferroics for spintronics, and the study of alloys with magnetostrictive properties. He has also been involved in the development of an all solid-state, elastocaloric cooling technology based on latent heat generated by the martensitic transition (change in crystal structure) of shape memory alloys, for which he and Professors Ichiro Takeuchi and Jun Cui won the University of Maryland's Physical Sciences Invention of the Year in 2011. The highly-efficient system could potentially replace vapor-compression based air conditioners and refrigerators, which utilize hydroflourocarbons and hydro flourochlorocarbons (such as Freon) that are harmful to the environment.
For more information about Professor Wuttig's research, visit his bio page.
Published September 4, 2013