2020 Capstone Winners Move Research Project to APL for Development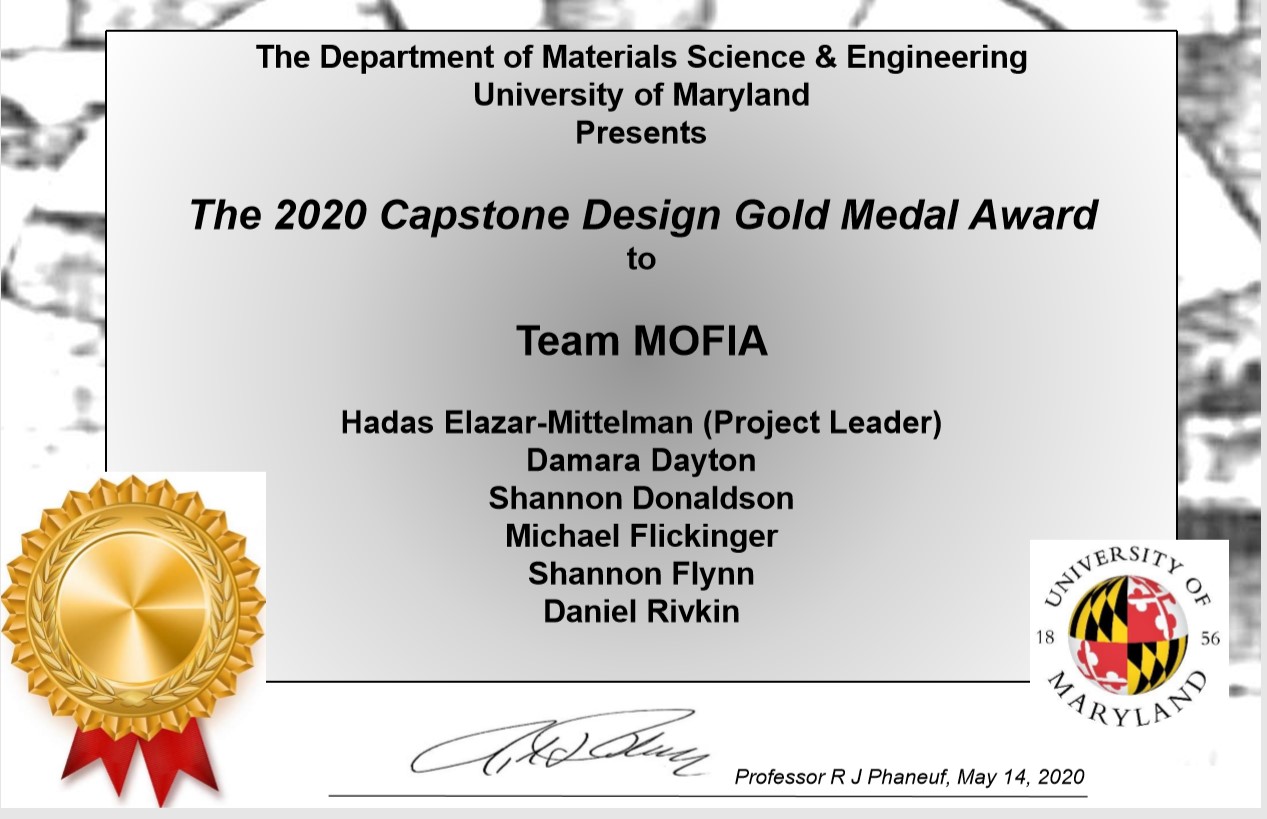 The undergraduate team – MOFIA – who won the "gold medal" certificate in the 2020 UMD Materials Science and Engineering (MSE) Capstone awards this past spring is continuing their project at the John Hopkins Applied Physics Laboratory (JH/APL), after being selected for funding by the APL NATURE Pop-up Challenge. The Challenge gives $10K in seedling funds to ideas that address environmental concerns regarding the comprehension, mitigation and adaptation to changing environments.
Hadas Elazar-Mittelman ('20) served as the team lead.
"We developed a metal-organic framework (MOF) and polymer mixed-matrix membrane for the photocatalyzed reduction of gaseous Co2," she said. "Though our semester shifted to a virtual environment and we were not able to complete the majority of the fabrication and testing portion of the project, we secured the first place gold medal award for our efforts."
The next phase of their project, now continuing under the title Gaseous Reduction for Emerging Environmental Needs (GREEN), will be led by Elazar-Mittelman and capstone team member, Shannon Flynn ('20). Elazar-Mittelman and Flynn will be support by ARL chemists Drs. Scott Holdren (UMD '19), Matthew Logan and Kelly Van Houten.
The GREEN project received funding due to the fact that the amount of CO2 produced by power plants each year continues to rise in line with increasing energy demands.
"A method to convert CO2 into useful byproducts is vital to aid in decreasing global CO2 levels," said Elazar-Mittelman. "Current management strategies focus on carbon capture and sequestration, but aren't sustainable given current trends in production and the declining state of our environment. Our group proposed a novel method of CO2 conversion, which will utilize metal-organic frameworks to photocatalytically reduce gaseous CO2 into useful hydrocarbons."
Gas phase catalysis is the next major frontier in managing CO2, Elazar-Mittelman continued. "The most commonly researched materials in this area are transition metal oxides. TiO2 has generated much interest due to its high tunability and affordability, however, it is only photoactive in the UV range. MOFs provide an attractive alternative, as they are active in the visible light range and have high surface areas. Most of the work in this field has focused on this chemistry taking place in a solvent, while our investigation is focused on trying to accomplish the same, but in the gas phase."
This next phase of the project will be complete on August 19, and the ARL team hopes to pursue additional funding after that.
Additional capstone team members included Shannon Donaldson, Damara Dayton, Michael Flickinger and Daniel Rivkin, all MSE class of 2020. The team was mentored by UMD MSE Professors Raymond Phaneuf, Yue Li and Timothy Foecke; Drs. Matthew Logan and Scott Holdren (APL); Drs. Chad Snyder, Tom Moffat, David Raciti and Brian Tackett (NIST), and Michael Ricca, Jason DeJoannis andn Tina Yeh (Dassault Systèmes).
Published July 29, 2020