Alumnus Appointed Head of UConn Materials Science and Engineering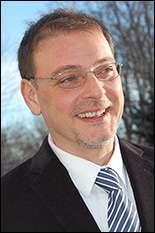 The A. James Clark School of Engineering extends its congratulations to alumnus Professor S. Pamir Alpay (Ph.D. '99, materials science and engineering), who has been appointed head of the University of Connecticut's (UConn) new Department of Materials Science and Engineering (MSE), part of its
School of Engineering
.
In the fall of 2012, UConn's materials science program, formerly part of the Department of Chemical, Materials, and Biomolecular Engineering, became one of the school's newest departments. Alpay, who had served as the program's director, was nominated by the faculty to become the department head. He says he expects his new role to be demanding, but is looking forward to the challenge thanks to the support he's received from his peers.
"My major goal is to work with my colleagues toward bringing a center of excellence to UConn MSE," he says. His plans include increasing undergraduate enrollment from its current size of approximately 130 to 200, which would put the department in the top five percent of MSE departments nationally, and to strengthen ties with industry.
"Connecticut is the home to several companies, including United Technologies Corp., GE Industry Solutions, Stanley Black & Decker, and Electric Boat," he explains. "All of these companies work on problems related to materials synthesis [and] processing, characterization, and properties measurements. Considering the wide spectrum of expertise covered by UConn MSE faculty, I believe that we can play a significant role in the technical, and thus economic, development of such companies and the state of Connecticut. "
Alpay became interested in metallurgy and materials science and engineering thanks to his aunt and uncle, mechanical engineers who worked in the steel and aluminum industries. He was attracted to a career in academia by his longtime interest in research. His experiences at the Clark School assured him he'd made the right decision.
"Interacting with truly superb professors at UMD clinched it," he says. "I had the pleasure of working with eminent faculty including [former and current MSE] Professors [Alexander] Roytburd, [Ramamoorthy] Ramesh, [Manfred] Wuttig, and [Richard] Arsenault…[who are] widely recognized for their contributions to the physics of functional materials nationally and internationally…I am extremely grateful for their guidance and encouragement." He describes Roytburd, his advisor, as his "mentor and biggest supporter," and cites postdoctoral research with Ramesh as an important factor in launching his academic career.
Alpay, who holds a joint appointment with UConn's Department of Physics, is the director of the Functional Materials Group, which specializes thin films of functional oxides and smart materials, and the relationships between their microstructures, defects, and properties. His early work led to the development of temperature insensitive, dielectrically tunable devices for telecommunications applications. His current work focuses on conducting oxides, polarizable semiconductors, and electrocaloric materials.
Since joining UConn in 2001, Alpay has received numerous honors and awards, including the United Technologies Corp. Professorship in Engineering Innovation, the Outstanding Junior Faculty Award, and an NSF Early Career Development (CAREER) Award. In 2012, he was elected a member of the Connecticut Academy of Sciences and Engineering.
For more information, see the UConn School of Engineering's official statement »
Published March 15, 2013