American Vacuum Society Covers Ongoing Efforts to Protect Silver Artifacts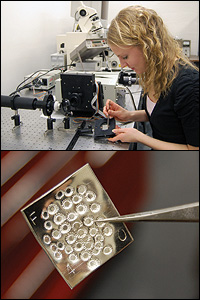 The American Vacuum Society (AVS) covered Department of Materials Science and Engineering (MSE) professor
Raymond Phaneuf
's ongoing efforts to create new ways to protect silver art and artifacts in the
August 2012 issue
of its newsletter,
Beneath the AVS Surface.
Museum curators and conservators routinely struggle to keep silver objects free of tarnish. Since repeated polishing will eventually damage fine details, a typical conservation technique is to hand-apply a layer of nitrocellulose lacquer. It is difficult to maintain an even level of thickness and to ensure that the it has worked its way into every nook and cranny. After two or three decades the lacquer will yellow and decay, requiring it to be carefully and completely removed, and a new coat applied.
Having to re-lacquer an object every 20 or 30 years may not seem so bad, but for an institution like the Walters Art Museum in Baltimore, Md., which owns a world-class collection of silver pieces, removing and applying lacquer has become an expensive, labor-intensive, and unending process.
In 2010, the National Science Foundation awarded the Phaneuf Group and a team of conservators from the Walters, including Terry Drayman-Weisser and Glenn Gates, two of the first Chemistry and Materials Research at the Interface between Science and Art (SCIART) grants. The funding has supported a project that uses atomic layer deposition to create durable, colorless coatings mere nanometers thick that can be applied evenly to silver objects, even those with fine levels of detail or deep crenelations, and removed safely if necessary.
MSE graduate student Amy Marquardt has so far tested the coatings on plain and punched squares of fine and sterling silver. In the AVS story, Phaneuf says they may soon apply the coatings to forgeries in possession of the Walters and other participating museums. If successful, these tests will pave the way for the coatings' application to real artifacts.
Phaneuf and his colleagues will present the latest advances in their work at AVS's 59th International Symposium and Exhibition, to be held October 28-November 2, 2012 in Tampa, Fla.
To read the AVS story, "Keeping Silver Shiny: Nanotechnology Helps Scientists and Museum Conservators Preserve Valuable Silver Artifacts," download the August 2012 issue of Beneath the AVS Surface (PDF).
Published September 6, 2012