Ankem Among Invention of the Year Finalists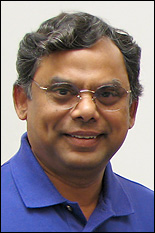 "Microporous Bone-Implant Joints," created by MSE professor Sreeremamurthy Ankem, was a finalist (in the Top 3) in the Physical Sciences category of the University's Office of Technology and Commercialization's annual Invention of the Year awards.
Ankem has developed a new fabrication technique for bone-implant joint replacements (such as those for the hip) that should extend their functional lifespans. Current hip joint replacements currently last about 12-15 years due to poor or degrading bonding between the patient's bone and the implant. By creating a microporous surface on the implants that have a nanoscale roughness, Ankem has greatly increased the surface area available for bone cells to attach to the implant, creating a longer, stronger connection. While there would be some additional cost in the manufacture of the implants, it is minor when compared to the cost of additional surgeries to replace them sooner than desired.
A patent application is pending for the product.
Published April 8, 2009