Banerjee Selected for Future Faculty Program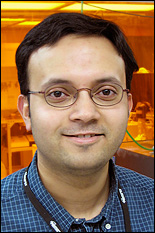 Please join us in extending our congratulations to graduate student Parag Banerjee (advised by Professor
Gary Rubloff
), who was one of only 20 students from throughout the Clark School chosen to participate in this year's Future Faculty Program. Banerjee will be part of the program's second cohort of students.
The Future Faculty Program (FFP), launched in 2007, was created to prepare students for academic careers in top-50 engineering schools by helping them hone their skills in areas such as technical and grant writing, curriculum development, teaching, research, oral presentations, and interviewing. The program includes seminars, a teaching practicum, and a research mentoring practicum, and takes 3-5 semesters to complete. Participants are known as Future Faculty Fellows, and receive a supplementary stipend of up to $10,000 over the course of the program. One half of the funds are reserved for travel to attend professional conferences.
Banerjee was motivated to apply to the program by its uniqueness. "None of the [other graduate] schools I was applied to actually had such a program in place," he says. "People talk a lot about going into academia, but when you ask them [about it], there's a lot of tacit knowledge that they bring along with them, but that they were never trained in."
Banerjee, who studies energy harvesting and energy storage devices in the Laboratory for Advanced Materials Processing, may seem to be on a path to professorship less taken: after earning his M.S., he worked in industry for 6 years. But, he explains, he had wanted to become a professor all along, and the delay was part of his plan: "Engineering is a very applied profession and if you want to become a good teacher you really have to appreciate how technology is put into practice in the real world. It was very important for me to go out and get some industrial experience, and then come back for the Ph.D. I think it will make me much more effective." Participating in the Future Faculty Program is another part of his plan to become the best professor he can be. "I think this is a very powerful program that's going to help us out in the long run."
For More Information
Related Stories:
Bradberry, Gifford, and Janiak Selected for Future Faculty Program
MSE Graduate Student Profile: Parag Banerjee
Published February 1, 2008