Bartis and Wan Join Future Faculty Program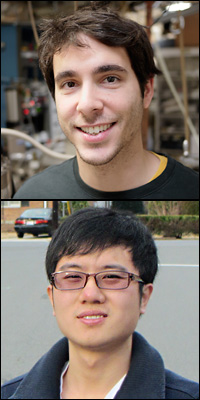 The Department of Materials Science and Engineering (MSE) extends its congratulations to graduate students Elliot Bartis (co-advised by Professor Gottlieb Oehrlein and Joonil Seog) and Jiayu Wan (advised by Assistant Professor Liangbing Hu), who were among only 24 students chosen to join this year's Future Faculty Program cohort.
The Future Faculty Program prepares doctoral students for career-long success in the academic world as mentors and researchers. Participants build skills in areas such as technical and grant writing, curriculum development, teaching, research, oral presentations, applying for academic positions, and interviewing. The program, which includes seminars, a teaching practicum, and a research mentoring practicum, takes three to five semesters to complete.
Bartis works in the emerging field of "plasma medicine"–in this case referring to ionized gas, not the blood component. While plasma/material interactions have long been used to manufacture electronics, the study of its medical applications is relatively new. At room temperature and atmospheric pressure, plasma can be used to sterilize surgical equipment and promote wound healing due to its antibacterial and antimicrobial properties. However, little is known about why and how this works. Bartis is conducting a study designed to explain the complex reactions that occur between plasma and biological materials.
Bartis has wanted to become a professor since his time as an undergraduate, but when he joined MSE's graduate program, he discovered it wasn't as simple as earning a Ph.D. "I realized very quickly that there was far more to being a professor than teaching, and that I did not have any experience in writing proposals or running a research group," he says. "The Future Faculty Program is the best way [for me] to reach my goal as it covers all the bases."
Wan would like to be part of the effort to create a clean and secure energy future. His research focuses on renewable energy conversion and energy storage solutions. Currently, he is developing a new electrochemical intercalating technique (a layering of materials in which the molecules of one insert themselves between the molecules of the other). Wan combines two-dimensional nanomaterials into new, novel materials that have what he describes as "extraordinary" optoelectronic properties. They can be used to make transparent conductors, and the study of them increases our understanding of the kinetic and solid electrolyte interphase problems encountered in the design of rechargeable batteries.
"Academia is a place filled with creativity," says Wan when asked why he would like to become a professor. "It is also a great pleasure to share my passion with students who are interested in materials science."
Published January 27, 2014