Daunheimer Wins MSE Graduate Research Award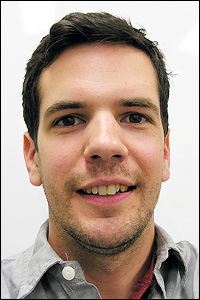 Congratulations to Department of Materials Science and Engineering (MSE) graduate student Stephen Daunheimer, who has been named the winner of the 2012 MSE Graduate Research Award for his doctoral thesis and related presentation, titled "Artificial Kagome Ice: Frustration for Engineering." Daunheimer will go on to represent MSE and compete against the winners from the Clark School's other seven departments in this year's forthcoming Dean's Doctoral Research Award Competition.
Daunheimer, advised MSE assistant professor John Cumings, is currently studying patterned magnetic thin films known as "artificial kagome ice." His dissertation focuses on the magnetic reversal of this system to investigate the function of geometric frustration on arrays of nanoscale magnetic elements. Patterned magnetic thin films have applications in many fields including data storage, spintronics, and other nanoscale electric and magnetic devices.
"I also want to congratulate the other nominees for excellence in their thesis research and their presentations," says MSE professor and Chair Robert M. Briber. "I fully believe that our department has the most exciting and dynamic research projects in the Clark School and on campus."
For More Information, see:
MSE Research Spotlight: Artificial Spin Ice »
Published April 30, 2012