Koeth Named Acting Director of Radiation Facilities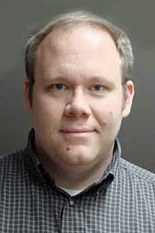 Institute for Research in Electronics and Applied Physics (IREAP) Research Assistant Professor Timothy W. Koeth has been appointed Acting Director of the University of Maryland Radiation Facilities. In this role, he will be responsible for managing the Maryland University Training Reactor (MUTR), the Cobalt-60 gamma irradiator source, and two electron linear accelerators.
Koeth received his B.S. and Ph.D. in physics from Rutgers University. An expert in electron beam optics and accelerator physics, he is also a licensed senior reactor operator. His current research includes the study of longitudinal and transverse beam characteristics of space charge dominated beams, which he performs using the University of Maryland Electron Ring facility.
Koeth succeeds longtime radiation facilities director and Department of Materials Science and Engineering (MSE) Professor Mohamad Al-Sheikhly.
"I would like to thank Professor Al-Sheikhly for his service over the past 16 years," says MSE Professor and Chair Robert M. Briber. "During his stewardship the facilities have seen significant expansion, including a major upgrade to the irradiator in 2007, the arrival of an electron accelerator and the largest level of research activity using the reactor in its 53-year history. Professor Al-Sheikhly has utilized the facility to build a well-funded research program and graduate a series of Ph.D. students across the disciplines of nuclear engineering, materials science and bioengineering."
For More Information:
Visit Professor Al-Sheikhly's homepage
Visit Dr. Koeth's homepage
Published November 4, 2013